Editor's Note: This Yoyo Chinese Review has been checked for accuracy and updated as of Aug 10th, 2022.
What's the best way to learn Chinese? Over the past year, our editors have tested and compared the most popular Chinese language learning resources available. Read on to find out what we thought of Yoyo Chinese, one of the more popular language programs, in our Yoyo Chinese review!
Already made up your mind and looking to start your free trial?
Yoyo Chinese Review: Summary
Price: Subscription (to all courses) is $29/month, $149/6 months or $249/year. Lifetime access to everything is $399.

Application Category: Language Learning Software
Description: An online Chinese language learning company that focuses on quality video production to teach Chinese to students around the world.
In A Nutshell: As a program that began as the result of a Youtube video gone viral in 2007, founder Yangyang Chen has been passionately pursuing her goal of making the Chinese language accessible for people around the world. With over 8 million lessons delivered to over 120,000 students worldwide, the consensus is clear that Yoyo Chinese is making good on Chen's goal to teach Chinese to the world in a structured and effective manner.
Quality:
Quantity:
Effectiveness:
Practicality:
Price:
Yoyo Chinese Review: Overview
Yoyo Chinese is always being updated and improved, and it's gone through some pretty major changes since when we first wrote this review over a year ago, however the essence of the program is still the same – high quality video lessons delivered by the very likable host (and founder) Yangyang Cheng.
The program actually consists of 6 unique courses, focusing on both conversational Chinese and the Chinese writing system. These courses are:
Beginner Conversational

(60 units, roughly equivalent to HSK L1-2)

Intermediate Conversational

(60 units, roughly equivalent to HSK L3-4)

Upper Intermediate Conversational

(48 units, roughly equivalent to HSK L4-5)

Chinese Characters

(300 commonly-used characters spread over 24 units, roughly equivalent to HSK L2)

Chinese Characters 2

(300 commonly-used characters spread over 24 units, roughly equivalent to HSK L3)

Chinese Character Reader

(6 books over 30 units, roughly equivalent to HSK L3)
Each unit contains between 2 and 5 lessons and focuses on a single topic or aspect of the Chinese language (for example, 'Talking About Hobbies' or 'Measure Words'). Some units are also there to review what you've learnt so far in the course.
The Pros: Here's What We Liked Most About Yoyo Chinese
Pro #1: Makes a 'Difficult' Language Easy
The Yoyo Chinese curriculum and language is broken down for complete beginners, using concepts that are easy for English speakers to understand. The lessons often utilize mnemonic devices, songs and even some rather comical raps to help you remember what you've learnt! Within a few lessons you're already learning usable vocabulary and building basic sentences in Chinese.
Pro #2: Consistently Good Quality Lessons
One of the things we loved most about Yoyo Chinese was the fact that the program gives off the appearance that the founder, YangYang Cheng is our personal Chinese instructor. You'll find that every lesson is delivered by her and she maintains the level of engagement and professionalism throughout the entire course (something that can't be said for some more botched-up curriculums like ChineseClass101). 
This sort of personal dedication to the quality of the content by the founder of the company is something that is almost devoid amongst competing Chinese language learning programs and was something we thought makes Yoyo Chinese really stand out amongst the competition.
Pro #3: It's Very Motivating
Yangyang is very upbeat and positive, always saying 'good job' and praising you at the end of each lesson. Now that they've introduced the progress tracker into the platform, there's an extra motivation to maintain your study streak and see your progress bars fill up. The study schedule is also a great help. Knowing exactly what to study on each day, right down to a checklist, really helps you to see the end goal and stay motivated.
Pro #4: Downloadable Resources
Yes, everything can be downloaded (apart from the videos). This allows you to study completely on your own time and fit your learning around your busy schedule. You can listen to the audios whilst driving to work, at the gym or on a lunch break. The Chinese books can be uploaded onto your kindle to read before bed, and you can browse through vocab lists when sitting on the toilet.
Pro #5: Active FAQs & Social Media Channels
In case you didn't know already, Yoyo Chinese has a BIG YouTube presence – over 300,000 subscribers! They give a lot of their content away for free and are constantly uploading new videos. But it's not just their social media that's growing but the course itself. They are always coming out with new updates and adding more content to the blog. 
Similarly, the FAQ section for each lesson is always brimming with comments from other students and is definitely worth browsing through. It's encouraging to see that the support team responds to almost every message, clarifying any confusion and providing further explanations.
Pro #6: Focus on People and Culture
You'll often get a lesson which is slightly different from the usual 'stand in front of a digital whiteboard and talk' kind of lesson and instead takes you out into the streets of China, into a restaurant, or supermarket. These interviews provide you with an insight into how the language is used in context and how people actually speak. Most of the time people don't use complete sentences or correct grammar, so it's really useful to get this kind of exposure to the language. It's also a great way to test your listening skills.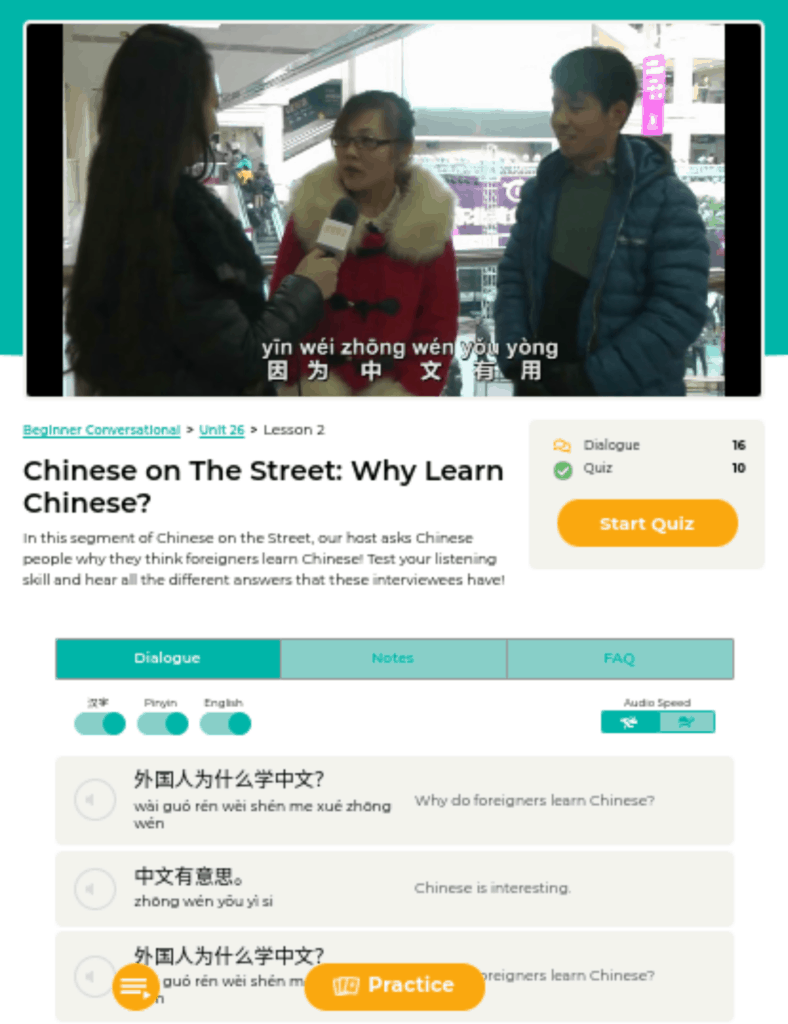 The Cons: Yoyo Chinese Is Very Good, But Not Perfect
So what's the catch? It's true, Yoyo Chinese is a brilliant resource for learning Chinese but it's not perfect. Here's a few of the things we didn't like as much.
Con #1: Simplified Chinese Only
Yoyo Chinese only teaches Simplified Chinese characters and completely ignores the traditional characters that are widely used in places like Hong Kong and Taiwan. So if you are looking to base your travels or the majority of your Chinese speaking in either of those places, then Yoyo Chinese might not be the language learning program for you.
Con #2: No Mobile Application
Yoyo Chinese is a great program on a desktop computer, and even works well on a mobile browser. but in the age of the mobile application, we see that as a significant downside, especially given the fact that the majority of Yoyo Chinese's competitors offer great mobile apps that can be easily used on the go.
Note: They have promised that the new app will be coming out soon, but when exactly is anyone's guess.
Con #3: Too Much English!
To learn a language you really need to get as much exposure as possible, seeing it being used in different contexts over and over again. Unfortunately, the video lessons contain more English explanations than spoken Chinese which can be quite limiting and even time consuming when you just want to hear the language being used. The street interviews are great, but there's not many of them. So you may want to supplement the course with outside material if you want to progress faster.
Con #4: The Writing Lessons Could Be Better
There's better options out there for learning how to write in Chinese, for example Scritter. Yoyo Chinese simply shows you the stroke order and lets you get on with it, but Scritter actually provides real-time grading and stroke-level feedback which is really important for any pictorial language, especially Chinese.
Con 5: Limited To Beginner/Intermediate Learners
While the quality of content contained within Yoyo Chinese is very high, there is a limited amount of content. Each module contains between 100-200 lessons and those lessons tend to be on the short side.
Learning Chinese is no casual affair, and while we believe Yoyo Chinese is great for beginner and intermediate learners of the language, the program does not contain materials that will help someone become completely fluent in the language. You'll need to supplement the course with extra materials and look elsewhere for an advanced course.
The Main Dashboard & Course Layout
The new update brought about a new sleek facelift to the main dashboard and how everything is laid out. In the top left you have 3 options: Me, Learn, & Mastery. 
'Me' is where you can see your own personal profile and your learning stats; your current learning streak, number of completed lessons etc. You can change your name and enter your details here, and your profile picture will get changed to your Zodiac animal – pretty cool!
Clicking on 'Learn' will take you straight to the meat of the course – the lessons. You can toggle between the 6 courses and move between all the levels. Completed lessons will be shown with a green ring around them.
Finally, the 'Mastery' option gives you access to further learning through additional learning resources, namely the integrated spaced-repetition flashcards, a pinyin chart, and access to the download center.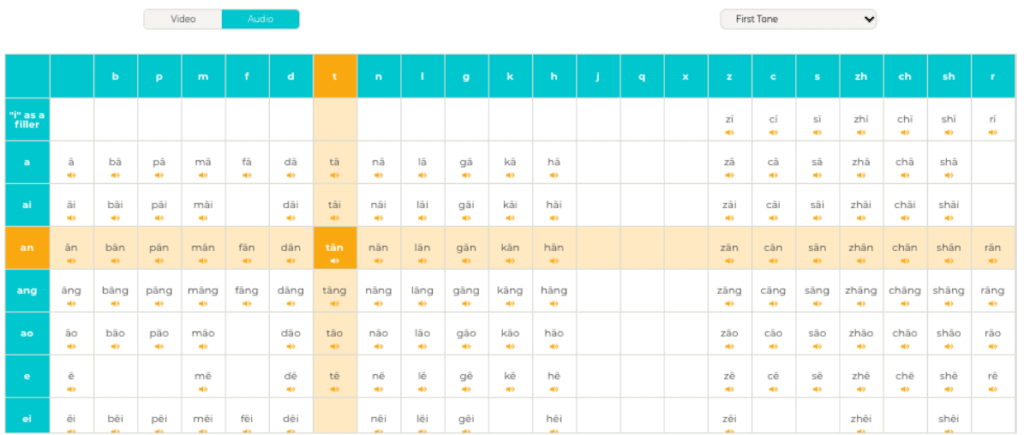 The interactive pinyin chart is super useful for drilling your pronunciation. It's a chart showing all the possible sounds in the Chinese language, including the tones. Yangyang even has videos demonstrating how to create each sound correctly, and you can listen to each sound by hovering your mouse over it. It's something that we found ourselves returning to time and time again.
The download center is an absolute treasure trove of content! Here you'll find all the lesson notes (for every course), complete study schedules, vocab glossaries, all the audio files, quiz worksheets, ebooks, HSK word lists, Chinese resume templates, infographics… the list goes on.
So, what are the lessons like?
Every lesson follows the same basic format. First, you have the video, where Yangyang usually reviews what you've previously learnt and then builds upon it by introducing new vocabulary, explaining the grammar, and providing many examples. These videos are very engaging, and you can easily find yourself binge watching your way through them with all the interesting examples and cultural cues.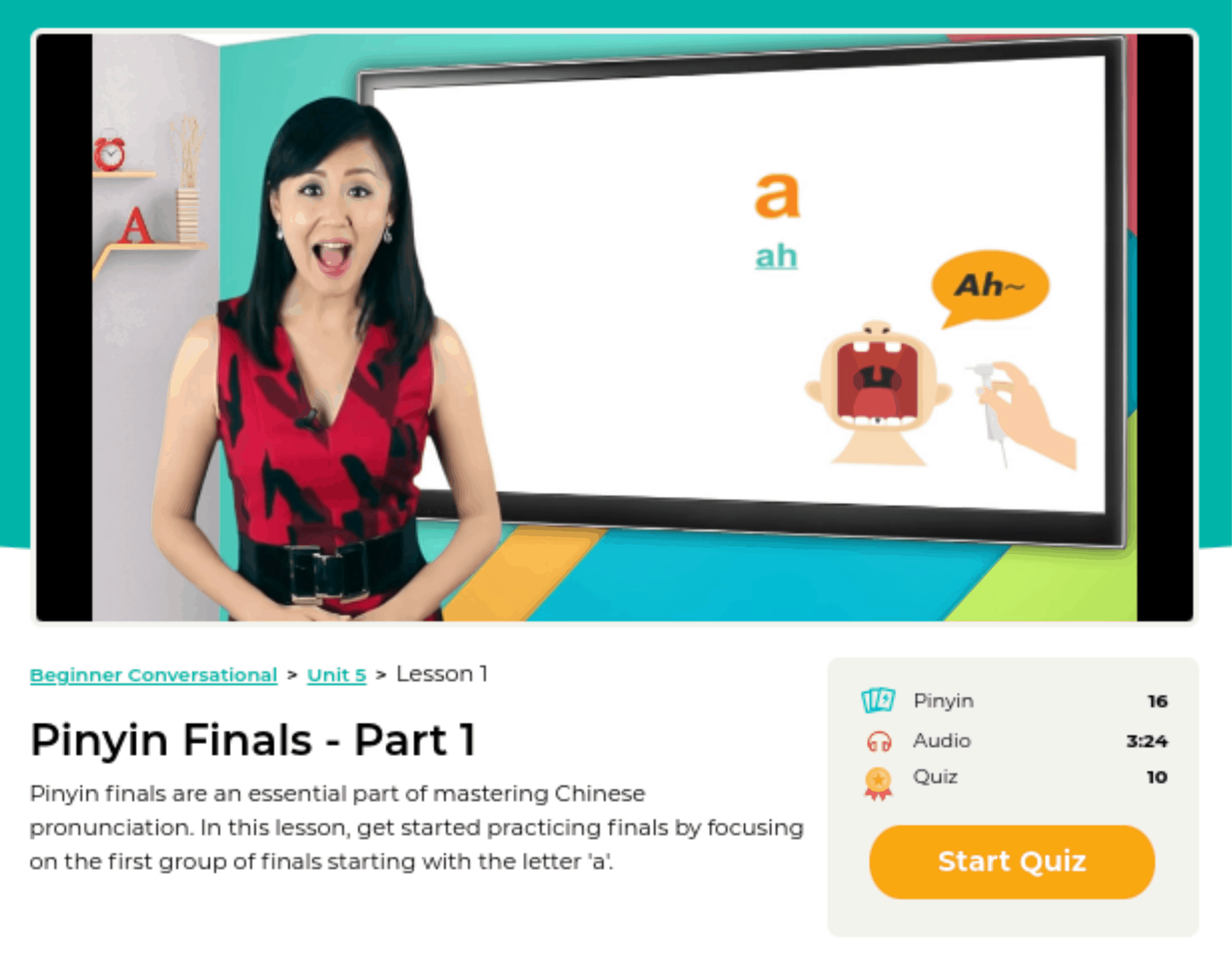 Underneath the video there'll automatically be a full list of all the vocabulary and phrases from the lesson. You can click on each one independently to listen to the audio again. You can also toggle on/off the English, Chinese characters or pinyin. Plus, you can select either a fast or slow pronunciation.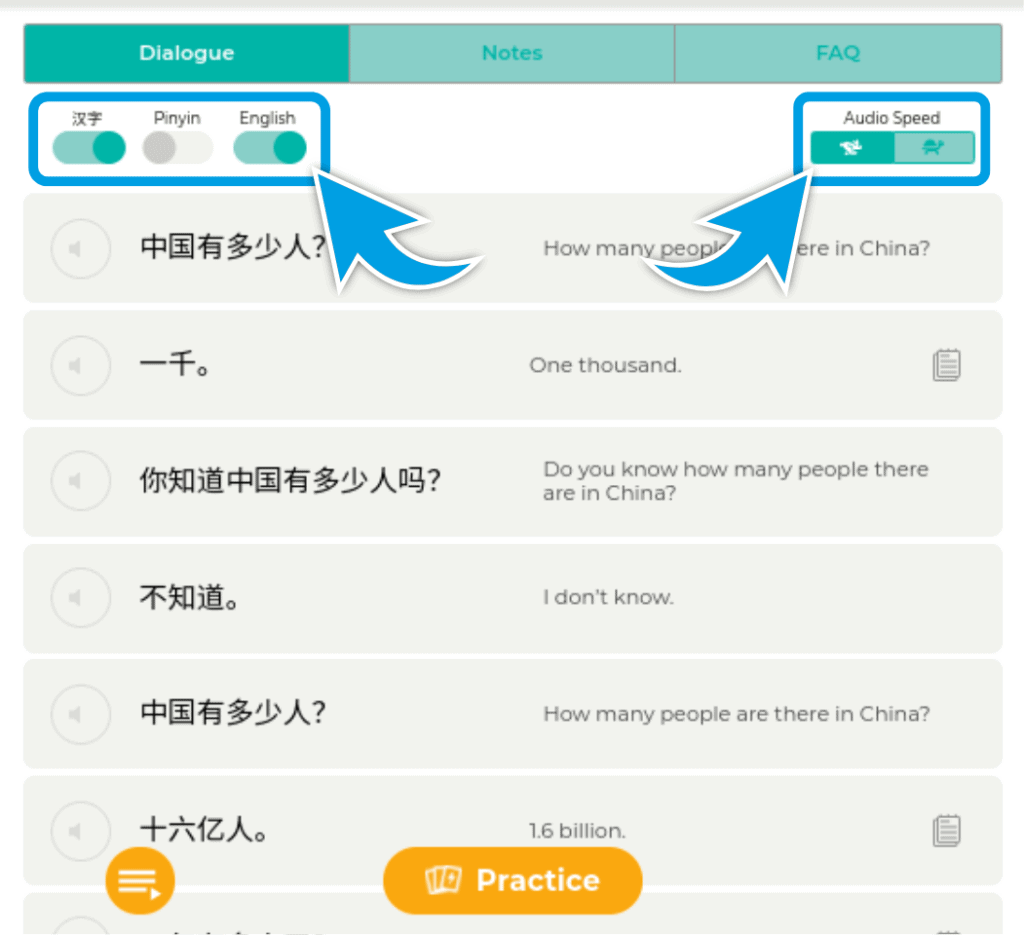 There are 3 ways to practice what you've learnt in the lesson. First, you can click 'Practice', which brings up the flashcards onto the screen for you to test yourself and record your own pronunciation. Second, you can listen to the audio which prompts you to repeat the words and phrases in the lesson. 
And finally, there's the FAQ section which is sometimes very useful since you'll often find other students have exactly the same questions as you, and the support team are very quick to clarify them. Plus you can ask you're own.
Once you feel you are ready, you can take the lesson quiz. You'll be guided through 10 questions, asking you to translate specific phrases/words, write down what you hear, put the words into the correct order etc. It's not necessary to get 10/10 to continue; however if you get anything below around 7 they'll recommend you review the materials and try again.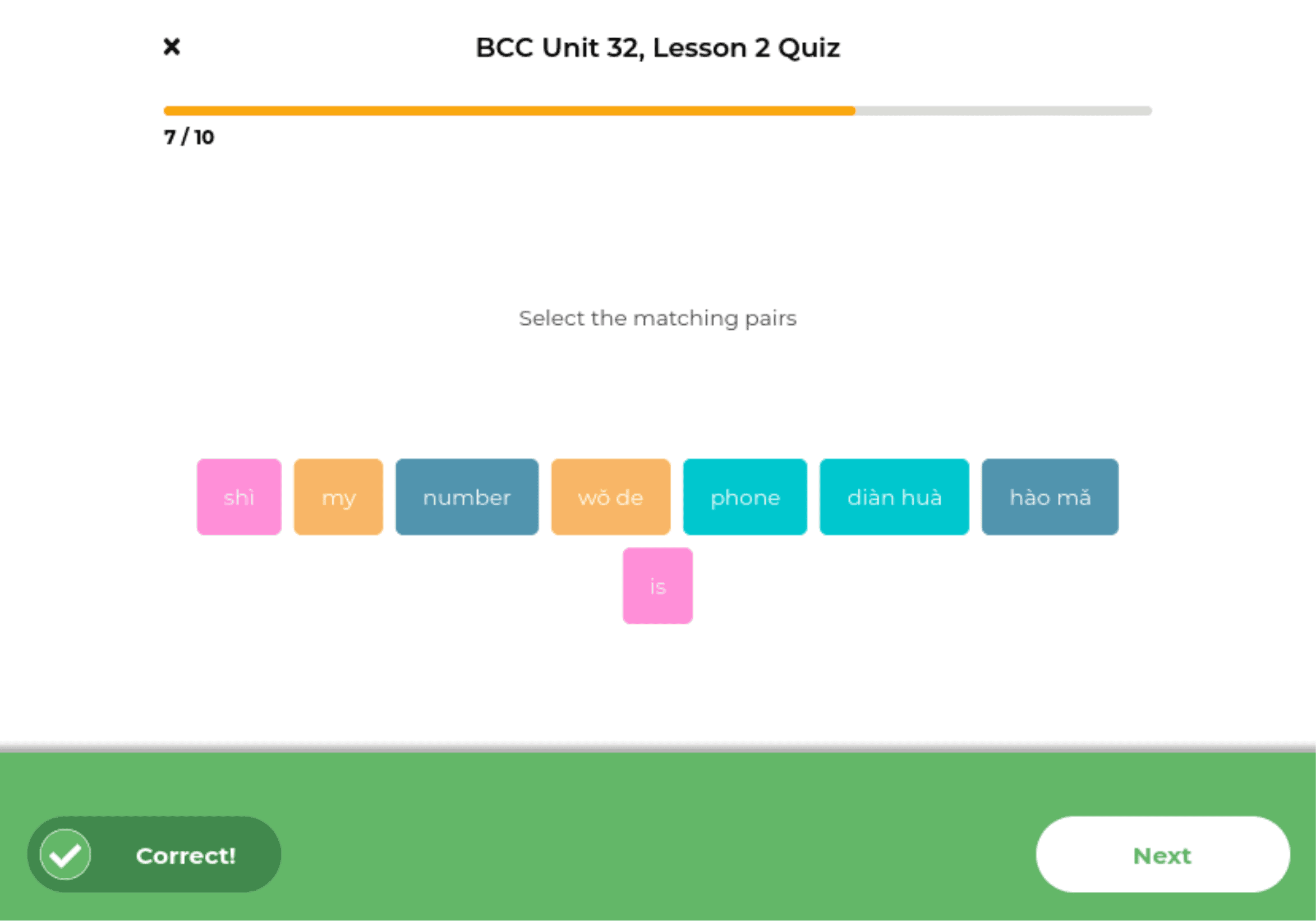 The lesson quiz has a variety of diffent question styles.
Those who'll benefit the most from Yoyo Chinese are those who:
Who Is Yoyo Chinese NOT For?
Those who might not find Yoyo Chinese as helpful and may want to look elsewhere are those who:
Yoyo Chinese Alternatives
Chinese is indeed a challenging language, and it's not something you can pick up just by passively watching Chinese TV. It requires dedication, commitment, and a lot of memorization.
Thankfully, there are many different options out there. When compared to competitors such as Rocket Chinese and FluentU, we believe Yoyo Chinese stands as the strongest competitor for self-study of Chinese.
ChineseClass101 Is Our Favorite Alternative
The one program we've tried that really competes is ChineseClass101. That said, which one you choose will really depend on your learning style preferences, and which personality you want teaching you Chinese. We'd recommend reading our review of ChineseClass101 and signing up for both free trials to see which one you like more. 
Yoyo Chinese used to be only available for a one time fee which restricted you to a specific course (unless you bought them all). However, you'll be glad to know that they now offer a subscription plan so you don't have to make that big commitment from the very start. There are 3 subscription options:
Monthly -> $19.99

 (full access to all 6 courses, over 1000 video lessons and all the downloadable resources)

Every 6 months -> $89.94

 (25% off)
Personally, we recommend the 6 month subscription since it's unlikely you'll still be at a beginner/intermediate level after a year of regular study. YoyoChinese do still offer the lifetime option, which gives you full lifetime access to everything and all their future additions/updates:
Lifetime access (pay once) -> $299
Click here to see the current discounts available for Yoyo Chinese.
You can use the Coupon Code PERAPERA10 to get 10% off now. 
Yoyo Chinese Review: Conclusion
We loved reviewing this product and are more than confident that Yoyo Chinese will help make you a better Chinese speaker from day one. YangYang's expertise being a Chinese language instructor for the past 15 years is well-reflected in this product. We believe that the combination of lessons focusing on both Chinese grammar and Simplified Chinese characters will make you a very capable and adept Chinese speaker in a short period of time!
Michael has lived in Japan on and off for almost 10 years. He loves studying Japanese, and is currently working on going from N2 to N1 on the JLPT.