Note: This VietnamesePod101 Review is our honest opinion after spending hours testing out the program. There are affiliate links in this post — if you use them, it helps support our site. This review has been checked for accuracy on Feb. 13th, 2023.
There are plenty of reasons to learn some of the more romanticized and popular languages out there, like Japanese or Spanish or even French. But what happens when you want to study a language that most people overlook?
Vietnamese is one of those languages that is often forgotten by the language-learning crowd, despite being spoken by more than 75 million people. In the past, if you wanted to learn the Vietnamese alphabet or learn how to speak Vietnamese, you may have had some trouble getting the help you needed.
Fortunately, you don't have to worry any more. The same people that brought us JapanesePod101 and ThaiPod101 have developed one of the most extensive and thorough online Vietnamese courses available on the internet right now.
VietnamesePod101 can help you master the language faster than you thought possible. Here is everything you need to know about the program to help you decide whether it's right for you!
Already made up your mind and looking for our unique discount code?
VietnamesePod101 Review: Summary
Price:

7-Day Free Trial; Free content is also available, whereas subscriptions run from US$8.00 for a 1-month Basic subscription to US$47.00 a month for Premium+ subscriptions. Price depends on subscription period and type.



Application Category: Language Learning Software
Description:
VietnamesePod101 is a language program that's
created for beginners, and right through to advanced learners
of the Vietnamese language.
The extensive library of podcasts, videos, grammar lessons, interactive quizzes, authentic dialogues and additional learning features that can be bought on a subscription model gives the learner tons of information & resources to effectively learn the Vietnamese language, in a way that is both structured and complete.
The
breadth and overall quality
of the material is excellent and
even
advanced learners
get great value for money.
In a nutshell:
Learn the Vietnamese alphabet, phrases, expressions, and more with VietnamesePod101, a platform developed by the popular Innovative Language Learning company that gives you video, audio, and other resources to learn Vietnamese quickly and efficiently.
Quality of Learning Materials:
Teaches Useful Vietnamese:
VietnamesePod101 Review: Overview
The lessons are arranged neatly into five levels of difficulty, absolute beginner to advanced. Those who are just beginning their studies can start with a placement test to see what they already know, or just jump right into the level 1 beginners course. Each level corresponds roughly with the standard CEFR framework with level 1 equating to A1, level 2 to A2, and so on – right up to level 5 (C1).
Every lesson introduces real-use language that is relevant to daily life, whether that's going to the grocery store, introducing yourself or asking for directions. The lessons are not repetitive at all, and you can select from a diverse range of topics from the lesson library. Regardless of what you choose to learn first, every video or podcast is packed full of new language. The lessons are well thought-out and are delivered by a variety of very enthusiastic and engaging language tutors from Vietnam.
VietnamesePod101 Features
Aside from the free subscription, every membership option (discussed later) gives you access to the following features:
The Pros: What We Liked About VietnamesePod101
Pro #1: Hundreds of Videos and Audio Files
VietnamesePod101 is an excellent place to learn Vietnamese, because you get access to more than 800 videos that range from a basic level all the way to advanced. You can find topics on almost anything, so whatever your goals for learning Vietnamese, you can achieve them easily.
Not only that, but the videos are designed to be interesting and refreshing. You never feel like you are being forced to memorize words or follow a boring textbook. The main idea and methodology behind VietnamesePod101 is one of independent learning, meaning the syllabus is completely down to you. 
Maybe you just want to be able to introduce yourself in Vietnamese? Then the basic boot camp pathway will be the one for you. Or maybe you want to learn more about Vietnamese food and culture? There's another learning pathway dedicated specifically for that. You can pick and choose any learning pathways that pique your interest and add them to your main dashboard, where you'll be able to track your progress and get recommendations for what to study next.
What is easier than listening and repeating after a native speaker? VietnamesePod101 immerses you first in the language and then dives deep into the nuts and bolts of how the grammar works with the new vocab. The interface for both the computer-oriented program and the mobile app is clean, crisp, and intuitive. You will find everything arranged by level, category, media type, and so on.
Best of all, you can take the downloadable resources with you wherever you go. Gone are the days of worrying about whether the language app will work on airport WiFi – everything (including the mp3s) can be downloaded for offline learning.
Pro #3: Excellent Features
If you are willing to pay for a subscription (which you should), you'll unlock hundreds of additional goodies that help keep you motivated. The basic account alone gives you access to full transcripts of the podcasts and flashcards. Premium accounts provide more customized study plans, and if you opt for Premium+ you'll receive full access to one-on-one tutoring with a native Vietnamese speaker.
Pro #4: Skill-based Learning
When learning a new language, it's important to focus on all four language skills – reading, writing, listening & speaking. Listening is usually the bottle neck for most people since authentic audio content at the right level can be very hard to come by. This is why VietnamesePod101 is our language program of choice. For listening specifically, it's second to none. 
Research has long been shown that listening to the language whilst reading along with the transcript repeatedly and breaking down the meaning of what you've just heard is a very effective way of learning a language. Thankfully, every lesson on VietnamesePod101 is structured exactly this way, usually with some kind of dialogue with the option to listen again to each line in isolation whilst reading along with the transcript.
But what about the other 3 skills? Although the program doesn't give you direct speaking practice with a native speaker, there is the option to record yourself and compare your pronunciation alongside a native speaker. Not quite as good as a real life dialogue but still a brilliant way to really nail those difficult tones and get you sounding like a local.
For reading and writing, there's many lesson pathways that are dedicated specifically to improving these skills. In fact, you can filter all the lessons by specific skill type and you'll quickly discover lessons that cover such things as miniature books and writing exercises.
Pro #5: Cultural Exposure
What's better than learning Vietnamese? Soaking one of the oldest and most fascinating cultures in the world, of course! As you might expect from a comprehensive language program like VietnamesePod101, there's a huge cultural emphasis integrated into all the lessons.
You'll discover the best of Vietnam's mouth-watering foods like Phờ (rice noodle soup) & Xôi (steamed sticky rice), the most popular festivals and holidays, influential Vietnamese writers, musicians and leaders. The tutors go well out their way to explain the cultural significance of the language and to share their traditions and how society functions. Learning this way keeps the lessons fresh and interesting, and the language becomes far more memorable and fun.
The Cons: What We Didn't Like About VietnamesePod101
There's no language program that's perfect, and VietnamesePod101 is no exception. Here's a few things we didn't like.
Con #1: Lack of Community
Since Vietnamese is not widely spoken or learned, the community is not as active as other forums on the same site. This makes finding learning partners difficult, especially if you are looking for someone to practice conversations with. While this is not entirely the fault of the program itself, it can be a bummer for more extroverted learners.
Con #2: Lack of Speaking Practice
Although, like we already mentioned, VietnamesePod101 does allow you to take oral quizzes and practice your pronunciation, it can get repetitive, because you are simply saying phrases over and over again. You are not getting real speaking practice, unless you purchase the most expensive subscription plan—an option not financially viable for everyone.
Con #3: Geared Towards Beginners and Low Intermediate
The content, while broad and interesting, can also be too basic for some learners. If you are someone who has lived in Vietnam for a while or is wanting to brush up on the language after taking a break from it, you will not find a lot of content that will challenge you. Granted, it is good for review, but you probably won't learn anything new, even in the advanced section of the video and audio.
What Does A Lesson Look Like?
Every lesson first starts with the video or podcast. It's recommended to listen to the dialogue several times to listen for language you may already know before studying the transcript. You can then listen again, line-by-line and record your own voice. The vocab section gives you a full list of the new words you encountered, and the option to listen again, record yourself, or add a word to a flash card deck or into your word bank. This ensures you never lose a word, saving it to review later.
The lesson content is then summarised concisely into the lesson notes, which includes a grammar section and cultural insights. Finally, you can test yourself by taking a multiple choice quiz before marking the lesson complete and moving on. This process is summarised in a downloadable checklist should you wish to structure your lessons this way – otherwise you're free to use the platform as you like (for example, just listen to the dialogue, or focus on a specific grammar point).
Find yourself still struggling? You can go to the dictionary that provides hundreds of words with example sentences, sound clips, and pictures to help with recognition. You will also see the Vietnamese written out a couple of ways to aid in pronunciation, as well.
In short, you will never be at a loss about what to learn or how to study. The courses are structured to build upon one another. You can then supplement your studies with vocab lists, customizable flashcard decks, your personal word bank, most common words list, 'word of the day' emails, the mobile app, and so much more.
Who Should Buy VietnamesePod101?
VietnamesePod101 is ideal for the following people:
Who Shouldn't Buy VietnamesePod101?
VietnamesePod101 is not recommended for the following people:
VietnamesePod101 vs. The Competition
Because Vietnamese is a lesser known language that is rarely studied in learning institutions or by travelers, the amount of resources available, including competition for programs like VietnamesePod101, pale in comparison to the competitors for, let's say, JapanesePod101, which is made by the same company.
That said, there are a couple of language learning platforms that offer similar programs, such as Loecsen, Duolingo, Babbel, and Memrise. Since the last three mentioned are severely limited in their Vietnamese lessons, we can't truly call them competitors, can we?
That leaves Loecsen. Like VietnamesePod101, you can find the course by simply searching "learn Vietnamese audio" into google, since it utilizes podcasts, free grammar and essential phrases downloads, and video to teach you common phrases. The speakers are native, too. Loecsen's Vietnamese program is entirely free of charge, including all the resources. The downside, however, is the quantity of study material.
While VietnamesePod101 has over 800 audio and video files at your disposal, Loecsen's resources will only give you a general understanding of Vietnamese. It's great for a passing traveler but not for someone who wants to get fluent in the language.
The free membership, as mentioned earlier, can be limited, so it is highly recommended that you make the commitment and choose a subscription if you are serious. Otherwise, free access gives you content such as pronunciation practice, grammar practice, information about verbs, the Innovative Language 101 app, and access to the "Daily Dose of Vietnamese." This might be enough for you right now, especially if you are looking for a taster.
However, if you know that you want to learn Vietnamese, this language learning platform is one of the best on the market and worthy of your money. With a Basic subscription, you can access the language and culture collection, print out notes, and get complete access to archived audio.
Premium and Premium+, which are $120 and $220 for 6-months, respectively, offer up one-click downloads, lesson specific tools like grammar checkers, interactive voice recording, review quizzes, flashcards, transcription translation, and so much more. When you consider other language learning software, like Rosetta Stone, the price on 6-months or even 24-months (at $240-$549) is honestly a bargain that is too good to pass up.
In short, is it worth the money? We think so.
How To Get 30% Off VietnamesePod101
It's no secret that we're big fans of the Pod101 language programs. So we've asked the Innovative Language team for the biggest discount they offer — 30% off! 
The Lifetime Membership Option
This option is not well-advertised (in fact, it was difficult for us to get access to), but if you don't like subscription payments, you can get a lifetime membership to VietnamesePod101 as a one-time payment of $599. Here's the link in case you're interested:
On the same page they even offer a lifetime access to ALL their language programs.
If you're really serious about becoming a polyglot in multiple languages, the lifetime access to all languages option could be worth checking out:
I think this is actually an amazing deal, despite seeming expensive at first glance. The Pod101/Class101 programs are often the best language courses available for Asian languages (we haven't tried their others yet!). They've got some really smart people on staff building their curriculums, and it shows.
VietnamesePod101 $1 Offer
As soon as you sign up for VietnamesePod101 you'll get offered a 30-day trial of the Premium membership for only $1. We're telling you this now because once you click off the page you won't be offered this again. It's excellent value, and highly worth it if you want to try out the platform for a longer period of time before buying. Do bear in mind though that after your 30 days are up you'll be automatically rolled onto the monthly $25 payment plan.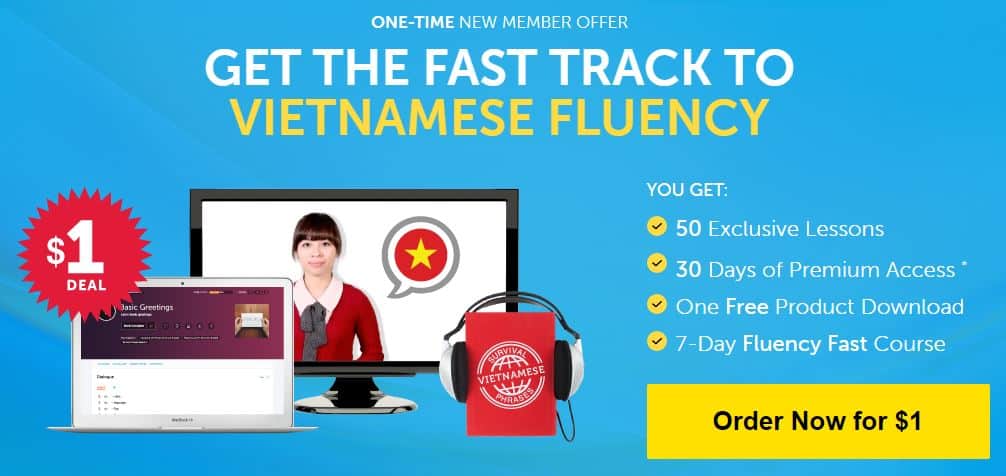 VietnamesePod101 Review: Final Thoughts
Our Verdict: VietnamesePod101 is a Superior Learning Tool For Learning Vietnamese Quickly and Efficiently.
As with many offerings from Innovative Language, VietnamesePod101 is an undisputed champion for studying and gaining fluency in Vietnamese. The course provides you with everything you need to gain confidence with learning this beautiful language. Whatever your goals may be, VietnamesePod101 can elevate your listening, speaking, and reading abilities much higher than the competitors or traditional classrooms.
If you are determined to learn Vietnamese, you have nothing to lose with this program and everything to gain!
Michael has lived in Japan on and off for almost 10 years. He loves studying Japanese, and is currently working on going from N2 to N1 on the JLPT.