Learning a new language can be an exciting endeavor, and learning Thai is absolutely no exception. It can open doors to wonderful new travel experiences – whether it's navigating the depths of Bangkok's exotic food markets, or getting local recommendations for the most off-the-beaten-track island beaches, the Thai language is a powerful entry point to experiencing Thailand's wonderful culture and friendly people on a whole new level.
But it's not easy. And without the right tools it can feel like hitting your head against a brick wall, with all it's complex tones and confusing characters. But here's the good news – there's a TON of amazing apps out there to get you up to speed quickly, reading street signs and conversing with locals. Whether you're a seasoned polyglot or just looking to know a few phrases to avoid being ripped off, there's an app for everyone.
But which apps are actually worth your time? In this article, we've created our top 5 list of apps for learning Thai. We've taken into account everything from effectiveness, user experience and price. Furthermore, we know how important it is to develop all your language skills simultaneously so we've included the best resources to improve speaking, listening, reading and writing skills. With this list you can't go wrong. Let's dive right in!
Best Overall – Most Comprehensive
Coming in at number one on our list is ThaiPod101, one of the most comprehensive and regularly updated language courses on the market. And, they have an awesome app. The lessons are mostly based around short podcasts (hence the 'pod') however there's loads of video lessons too, all delivered by native speakers in a relaxed and engaging tone.
The unique thing about ThaiPod101 is the ability to completely customise your own learning by selecting your own 'pathways'. You can filter by level, category, skill type etc. and add pathways to your dashboard to track your own learning. There's a ton of interesting content, from food to dating. Plus, the app includes flashcards, word lists, a dictionary, and all sorts of bonus features. The only thing lacking is the speaking element of Thai, and the writing lessons could be better.
Price:
Effectiveness:
User Experience:
Most Engaging & Fun
Ling is a highly gamified app (much like Duolingo) that offers short themed lessons for over 50 languages, including Thai. It's not the most comprehensive app out there but it does offer a great entry point into the language and it's very engaging for new learners to use. Unlike duolingo the activities don't feel overly repetitive and are generally very varied with everything from dialogues to vocab-matching. We love that they've incorporated native voice clips into the activities and best of all it's free! Note, we did find some mistakes in the material and there's not much in terms of grammar explanations
Price:
Effectiveness:
User Experience:
Best App for Learning the Thai Alphabet
To learn any language, it's a good idea to start with the alphabet. Once you can read, every street sign, menu or newspaper becomes a language lesson. Plus, you can get locals to write words down for you that you don't understand, making translation much easier. Write Me does an excellent job at teaching you the Thai alphabet in a pain-free way. This is quite a task given that there's over 70 letters!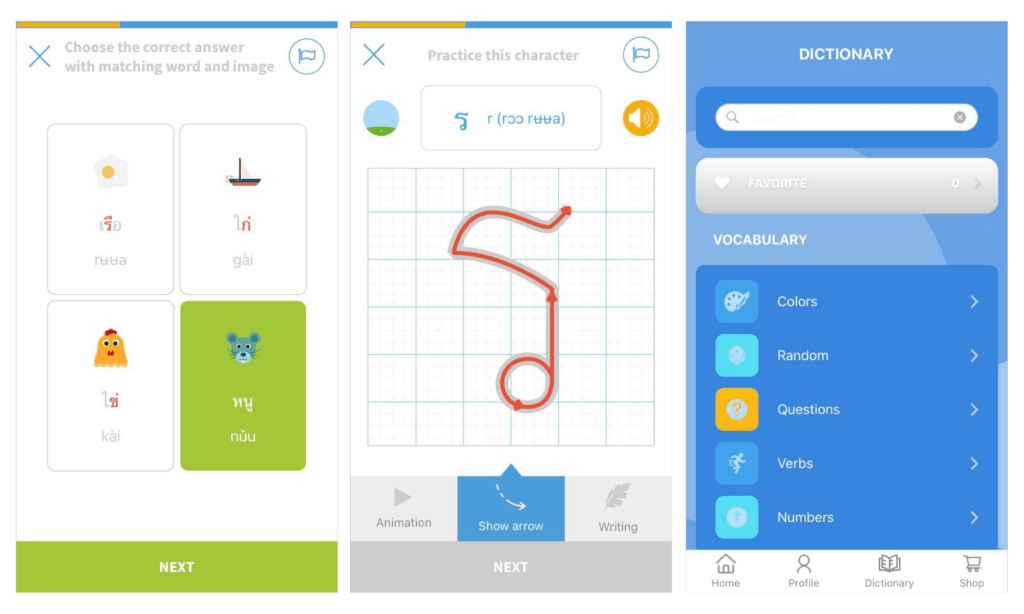 Similar to Ling, it incorporates quizzes and games to keep you motivated to continue – you'll grow virtual flowers as you progress through the levels. But not only is it fun but seems to be very effective. They've incorporated a spaced recognition system to gradually up the ante, until you're eventually identifying each letter and writing it with precision. The writing software is similar to skritter, giving you real time feedback with handy arrows & animations. It also has voice clips so you can start learning the pronunciation alongside the writing.
Price:
Effectiveness:
User Experience:
Most Useful for Travel
Planning a trip to Thailand? This app isn't really a comprehensive course but more of a travel phrasebook that conveniently has all the key phrases you'll need to get around in Thailand. The app is laid out nicely to make navigation quick and easy, with intuitive categories and search functions. Every phrase has a voice clip by a native speaker and a transliteration to help you. We love that you can favorite specific phrases if you know you are going to use them often.
Price:
Effectiveness:
User Experience:
Best for Listening Practice
You too can learn Thai is an absolute gem for Thai language students. It's designed specifically for learners of Thai by linguist Dr Khru Nan. Every week she releases a new episode on interesting and relevant topics, often with special guests, all in Thai! But don't fear, she always guides you along with short interjections of English to avoid confusion, and she'll repeat everything at both slow and natural speeds. It might be a little too much for complete beginners, but it never hurts to listen anyway to get used to the language and pick out the words that you do know.
The podcasts are available on Apple, Spotify or Youtube, and they are free – supported only by amazon affiliate links.
Price:
Effectiveness:
User Experience:
Runners-up for Best Thai App:
Here's our list of apps that didn't make it into our top five but are still worth checking out.
This app is best for only upper-beginner to intermediate learners. It's audio based and focuses on learning key phrases through their spaced-repetition system. It works very efficiently and is easy to use, however you are expected to already have a good grasp of the Thai alphabet since you'll be expected to write in Thai. It's very clever how it adjusts to your level, however for beginners we recommend avoiding Glossika and sticking with ThaiPod101.
Price:
Effectiveness:
User Experience:
Pimsleur is a well known name in the language learning space, and for good reason! They are awesome at getting you up to a basic conversational level fast. Again, it's purely audio based which is very handy for when travelling or out and about, and the 1 hour lessons each focus on an authentic dialogue and then breaks it down, prompting you to repeat and 'participate' in the dialogue. Many students find it very effective for boosting their speaking and listening skills however it does nothing for reading and writing. Furthermore, their Thai course only has one level, so it's very limited in scope.
Price:
Effectiveness:
User Experience:
FInally, this article wouln't be complete without mentioning italki. It's always a great go-to resource for getting real conversation practice woth native speakers. The tutors are affordable and lessons can be scheduled to fit around your lifestyle. The only con is that you can't expect the tutors to do all the work for you – to get the most out of each lesson you should keep it focused and structured.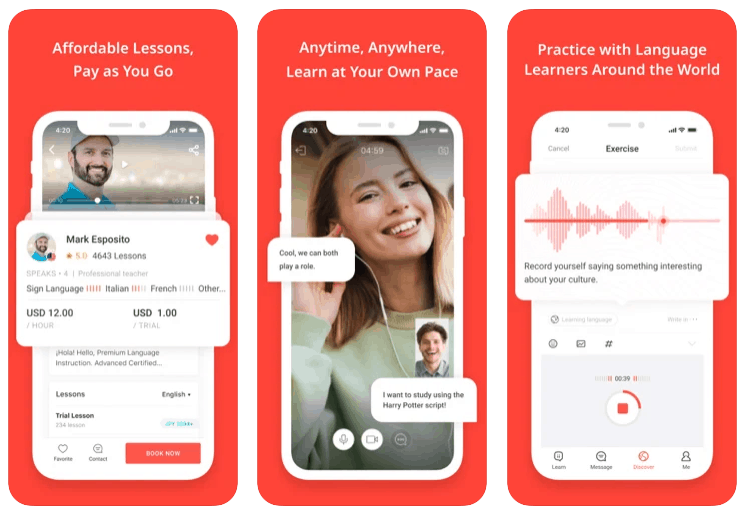 Price:
Effectiveness:
User Experience:
Conclusion: The 5 Best Apps For Learning Thai
I hope you've found this list useful – now you have no excuse to get out there and start practicing your Thai! And most of, have a lot of fun whilst doing so.
To recap, serious Thai learners should consider a ThaiPod101 subscription, the number one app for learning Thai. For those just looking to wet their feet we reccomend having a play around with Ling or Simply Learn. For writing, we strongly reccomend the Write Me app, and for listening you should check out the 'You too can learn Thai' podcast.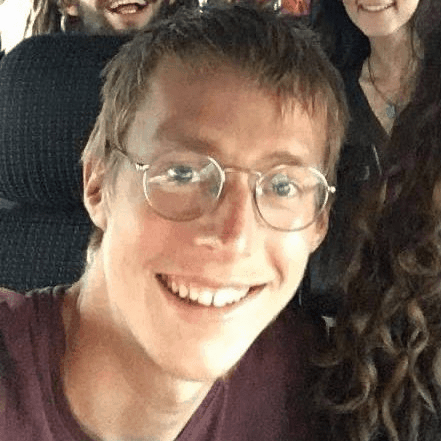 Josiah is a digital nomad with a passion for language learning and adventure travel. He's taught English as a foreign language for many years and is currently learning Georgian, French and Chinese.