Editor's Note: This Rosetta Stone Japanese Review has been updated on Feb 15th, 2022.
With around 127 million speakers, and Japan having the second largest economy in the world, being able to speak Japanese would be a huge personal asset for business, work or travel. 
The language provides a gateway to understanding Asia's great civilizations and cultural treasures. Plus, it's not as hard as you think!
Did you know that Japanese has no articles or plurals? And apart from sharing the writing system with Chinese it's considered one of the most unique languages in the world, with no direct derivative language that came before it.
So, you're wondering what's the best way to learn Japanese. The internet is jam-packed with all sorts of online language programs and various courses, which can be an absolute minefield to navigate and a nightmare to determine which one is deserving of your time and money.
Rosetta Stone is one of the most popular options available, boasting millions of students and used by over 1500 corporations – one that you might be considering. But is it really the best way to learn Japanese? Find out in our in-depth Rosetta Stone Japanese review.
Rosetta Stone Japanese Review: Summary
Price:

A 3 month-subscription of $35.97 for one language, 6 month subscription of $95.88 for one language, or a lifetime membership of $179 for all 25 languages. Additional 12 months of weekly 25 minute group coaching calls for an extra $100 (Lifetime Plus membership).
Application Category: Language Learning Software
Description: Taking its name from quite possibly the most famous rock in existence, Rosetta Stone has grown to become one of the most recognizable names in the language learning industry. It is currently the only language learning software company that is publicly traded on the New York Stock Exchange (Code: RST). They are the undisputed heavyweight champion of the language learning world, and have an undeniable influence on the entire industry.
In a Nutshell: Like the rest of Rosetta Stone's courses, Rosetta Stone Japanese uses a series of quizzes to expose you to the target language, repeatedly testing you through a variety of different questions, all based upon isolated images and voice clips. Unfortunately we felt that the program was very overpriced and inefficient for learning Japanese alone, without using any supplementary textbooks or resources.
Quality:
Quantity:
Effectiveness:
Practicality:
Price:
Rosetta Stone Japanese Review: Overview
At the core of the program is the multiple-choice style questions which systematically introduces new vocabulary and verbs, and then proceeds to test you on different combinations of these through a variety of different questions.
You are shown a series of photos and then asked to select the right answer based upon what you hear or read. The course is designed to be cumulative so that the learner is exposed to the new concepts progressively as they learn the language. The latest version now incorporates an online classroom with group tutoring, though it costs an extra fee.
A Rosetta Stone Japanese membership includes:
12 modules of lessons (each module had 4 lessons, each lesson has one hour of learning)
Live scheduled lessons (a few lectures per month)
On-demand videos (currently only four 1-minute videos, given in English)
Stories, read by a native speaker (typically two per module)
Audio companion – downloadable audio files to review what you've learnt
Alphabet – a table of Hiragana and Katakana with accompanying voice clip and Romanji
Group coaching classes (for Premium members only)
Rosetta Stone was one of the first language programs to incorporate a voice recognition software that prompts you to repeat the audio clips and will give you instant feedback by filling up a circle (green if correct, red if not). They advertise this element of their program as 'the most advanced speech technology', which perhaps was true in its prime, but we found that it had some issues (as we'll see a bit later on).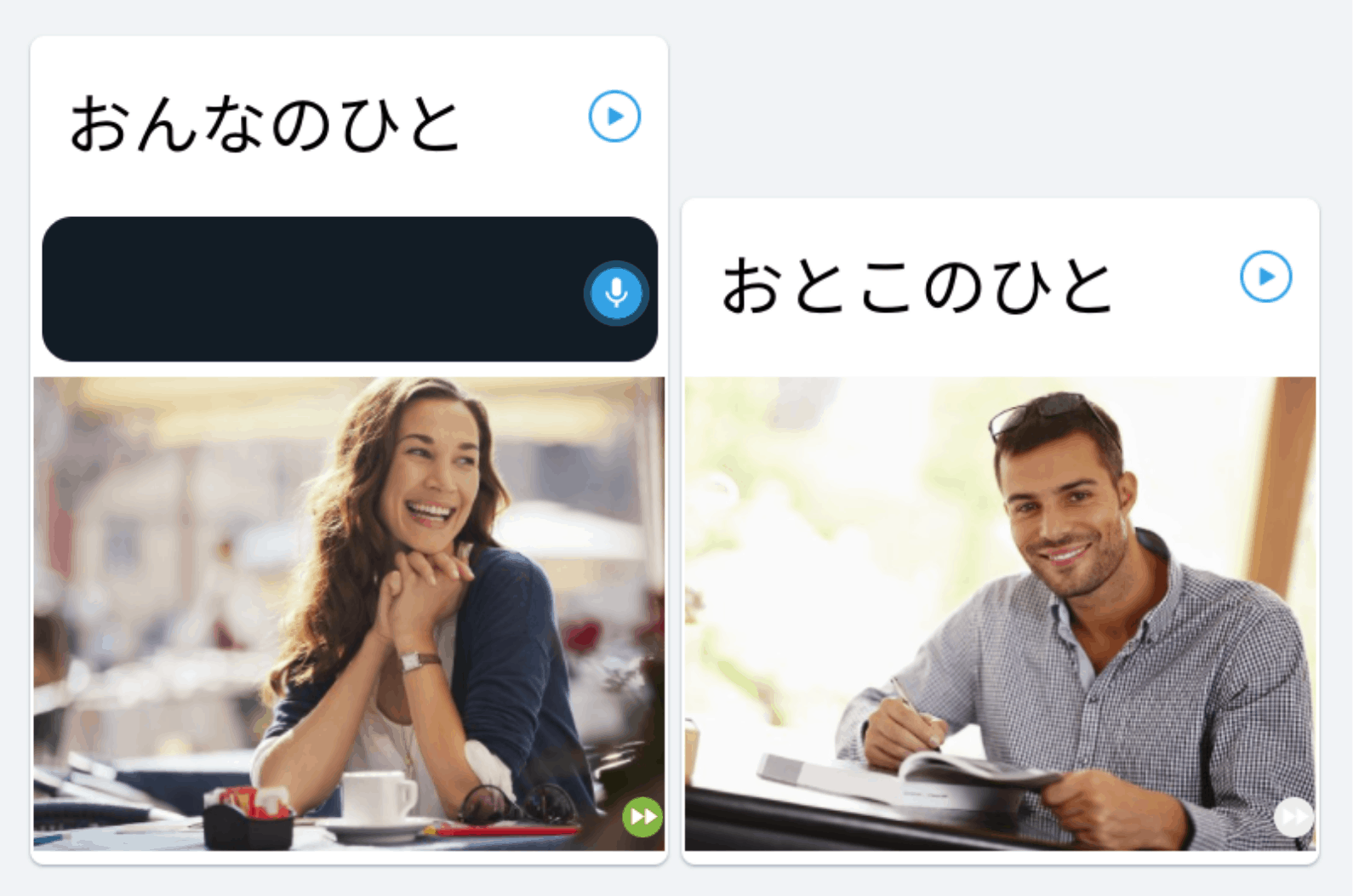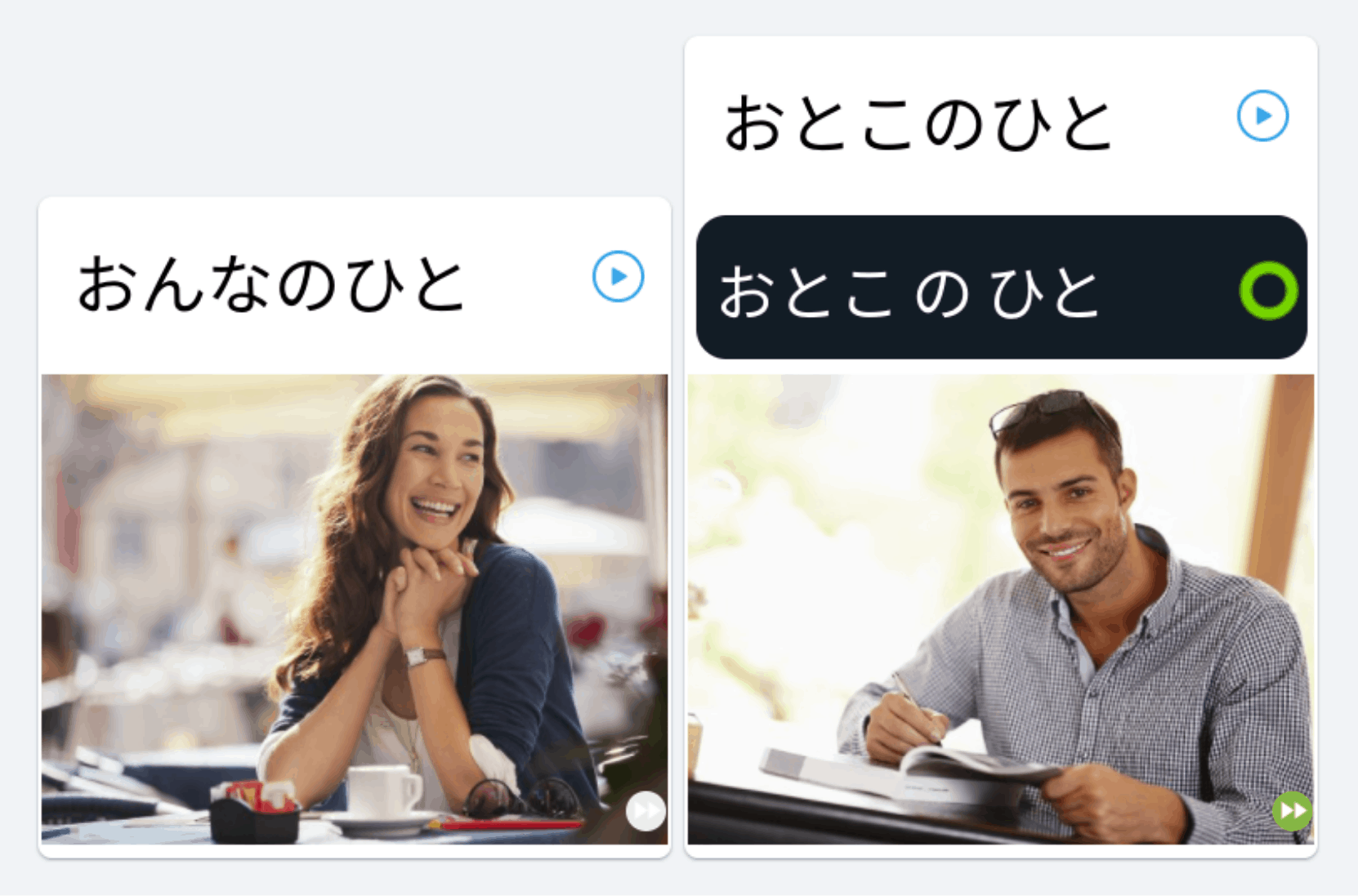 Most voice recognition technology just isn't there yet and most programs who have incorporated this software suffer the same problems. Therefore, Rosetta Stone might indeed have 'the most advanced' voice-recognition software, but that doesn't mean that it works properly or is a valuable asset to your language learning.
So how useful is the course for learning Japanese? Let's take a look at the Pros & Cons.
The Pros: What We Liked About Rosetta Stone Japanese
Pro #1: Original Innovator
Rosetta Stone has led innovation in the language learning space for nearly three decades now. Their positive contributions have helped millions of people learn more than two dozen languages and they have helped pave the way for innovation in the language learning sector. For this reason, they deserve some respect even if they are now a bit outdated.
Pro #2: Embraces Simplicity
When it comes to software applications, Rosetta Stone seems to have embraced the idea of creating simple and easy-to-use applications. Rosetta Stone is quite possibly the easiest language learning program out there. The interface is simple, easy to navigate and user friendly. Their website, billing system and the software itself are also well-designed with rich colors and beautiful typography. Aesthetically, the service is great.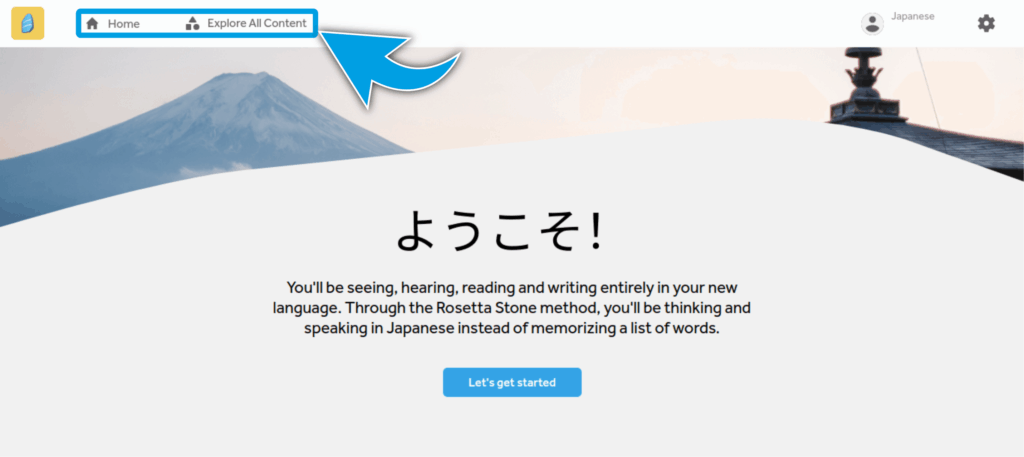 Pro #3: Includes All The Japanese Writing Systems
We loved to see that you can easily switch between the Kanji, Romanji, and Katakana & Hiragana. Provided you already know the basics of the writing system, Rosetta Stone could be a great help for reading and learning the Kanji because you can test yourself by switched between the two writing systems. 
Pro #4: Professionally Recorded Audio
We liked that you can hear the pronunciation very clearly and fluidly. A lot of competitor programs have a robotic-sounding voice with choppy clips that have been automatically stitched together (which is very off putting, let alone it's obvious inauthenticity). Both a male and female voice are used interchangeably which is nice.
Pro #5: Flexible Learning
The app is well developed and is automatically synced with the desktop version, allowing you a lot of flexibility to learn from wherever. Furthermore, you can continue learning offline, and the downloadable audio files are great for listening to the language when you are on-the-go or out and about. Since it's an online course and not a fixed classroom setting, you can easily fit your studies around your busy lifestyle. You can even turn off the speaking function if your out in public.
The Cons: The Things We Didn't Like About Rosetta Stone Japanese
Sometimes the traditional methods are traditional for a reason, because they've stood the test of time and they work. In the language learning world, however, a lot of research has been done to suggest that we need a lot more variety and stimulus to emulate an immersive learning environment, rather than just images and isolated audio clips. We also learn much more effectively when we are motivated to learn and enjoy the process, receiving a sense of satisfaction and progress.
Rosetta Stone would do well to consider using more motivational strategies to motivate learners, for example by earning points, maintaining learning streaks and unlocking bonus levels, like the more popular Duolingo. It'd also be more effective if they added more variety to the way they conduct the lessons. Every lesson is identical in its format, with the same style of questions. This can get very tedious and boring after a while, and can have a negative effect on our ability to memorise the information.
It was a big disappointment to see that the syllabus was identical to all the other languages that Rosetta Stone offers, which suggests the lack of thought that went into designing the course. Japanese is a very unique language and deserves a tailor-made program to get a proper understanding of the intricate grammar and unique characteristics. It seems they've started with English and then simply translated to all the languages that they offer. It's really a terrible idea that can lead to confusion and inaccuracies.
For example, in English there aren't too many differences between formal and informal language, however Japanese has an entire complex system of respect, known as 'Keigo'. In the Japanese course this language point is crudely oversimplified and taught as if it were a direct translation to the English system. 
Con #3: No Grammar Explanations
It'd be nice even to have a line or two in places just to clarify to much-needed grammar points that you inevitably encounter throughout the course. Japanese has a specific word order and a system of complex verb conjugations. Without any explanations, it's incredibly difficult to get a proper understanding of how the language works and how to form your own sentences correctly, from just context alone.
Con #4: No Pronunciation Lessons
The voice-recognition software alone is not enough to teach you how to speak properly in Japanese. What you need is an in-depth explanation of all the pitch accent patterns and how to actually make the sounds with your mouth. This is very difficult from just an online language course but some competitor programs do it very well (see competitors). Unfortunately Rosetta Stone provides no instruction whatsoever so you'll need to look elsewhere to learn the proper pronunciation in Japanese.
Con #5: Voice-Recognition Software Doesn't Work Properly
For a feature that's so widely advertised in the course we were surprised to find out that it didn't work so well. It often marked us as correct even when we made deliberate errors to test it out (and vice versa). To be honest, we weren't expecting it to be perfect (none of these built-in systems are) but we at least expected it to pick up on the right sounds. On a positive note, it does at least get you speaking, which is an essential component of language learning that is so often left by the wayside.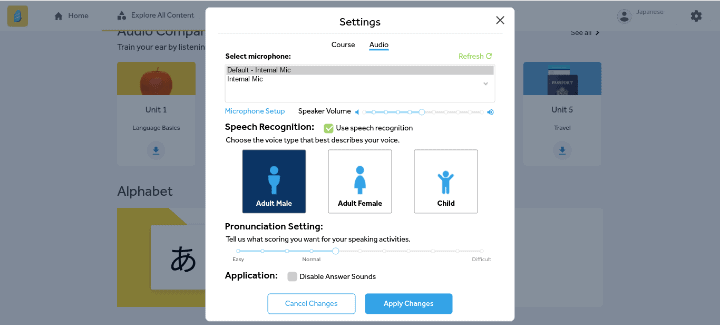 What Other Reviewers Had To Say…
Don't just take our word for it, we encourage you to try the program out for yourself. When reading reviews of a language learning tool, it's important to understand that everyone has different learning styles. And while the language learning community tends to review Rosetta Stone's Japanese edition unfavorably, it's not a uniform consensus.
However, some people have some pretty extreme views about the program, and things can get a little controversial at times. One staff writer at language101.com even offered to eat his Rosetta Stone discs if someone could carry a conversation in Japanese after practicing solely with Rosetta Stone for 45 minutes a day. He also expressed his frustration with their customer service department after not receiving answers to questions about the program: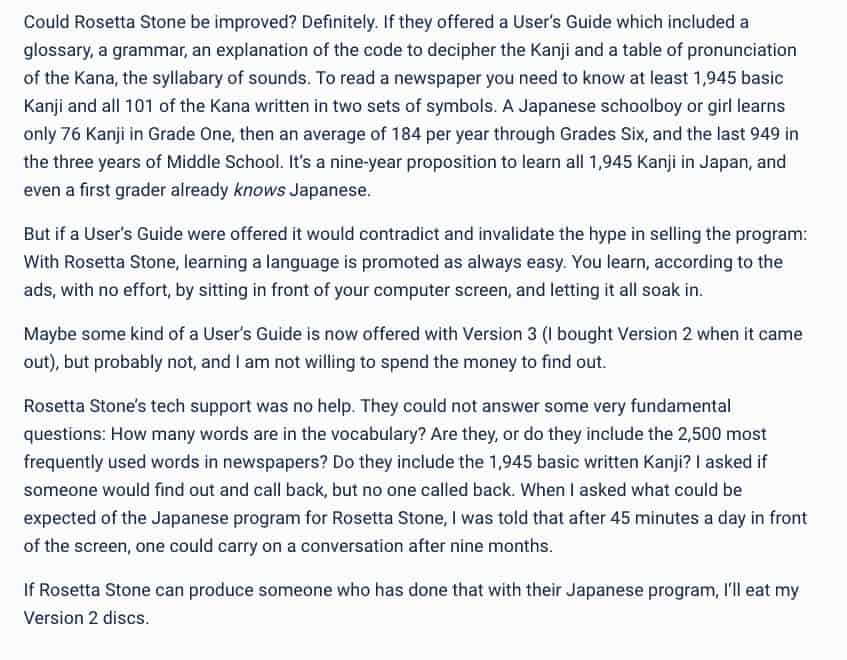 Who Is Rosetta Stone Japanese For?
Those who might find the program useful are those who:
Who Is Rosetta Stone Japanese NOT For?
The program is probably not a best fit for you if:
Rosetta Stone Japanese Alternatives
While Rosetta Stone might be the global leader in language learning software products, that by no definition of the word means that it is the best and most comprehensive product out there. Thankfully there are many other innovative language learning programs that are worth your money and your time.
The two we are most willing to recommend today are JapanesePod101 and Rocket Japanese.
JapanesePod101: Tons of High Quality Material
JapanesePod101 is quite possibly the most well put together language learning product we've tested. It has literally thousands of audio and video lessons, and detailed pdf's with useful cultural context, and intuitively designed lesson plans to help teach Japanese efficiently. In our opinion, JapanesePod101 is the clear and definitive winner in Japanese language instruction. 
Rocket Japanese: A Well-Designed Course
Rocket Japanese is a close second, and provides a quality product that is well researched, logical, and provides tangible results. One of its main selling points is that it provides many useful lessons in the complex world of Japanese grammar. Japanese grammar and sentence structure bear almost no similarities to English, and Rocket Japanese teaches that system efficiently. This is completely devoid in the Rosetta Stone Japanese program.
Rosetta Stone Japanese Pricing
Rosetta Stone is definitely not cheap – most of the online criticisms are about the price. However, they have lowered the price in recent years and there's now a few different options to choose from:
3 month-subscription -> $35.97 (Japanese only)
6 month subscription -> $95.88 (Japanese only)
Lifetime Membership -> $179 (for all 25 languages)
The group coaching calls vary in price from around $14-$19 for two 25 minute sessions. 
They also offer a 30-day money-back guarantee if you are not satisfied with the program.
When you compare the price to a traditional university course then it seems much more affordable. However, there's many other programs that exist at a far lower price that will teach you Japanese more comprehensively than Rosetta Stone. In our opinion it's simply not worth the hefty price tag. 
Rosetta Stone Japanese Review: Conclusion
For such a large financial investment, shouldn't a language learning program provide more than just word association and clunky software? The consensus in the language learning community is a definitive yes. You can get the same amount of practice for vocabulary far more efficiently by just using any standard space repetition system such as Anki.
We can see how the program could be useful for practicing reading Kana and Kanji since there's a lot of written material included, such as the books. However, this is providing you know some of them already since they don't teach you and it doesn't really allow you to pick it up. For this reason we don't recommend it for complete beginners since they don't teach you the script.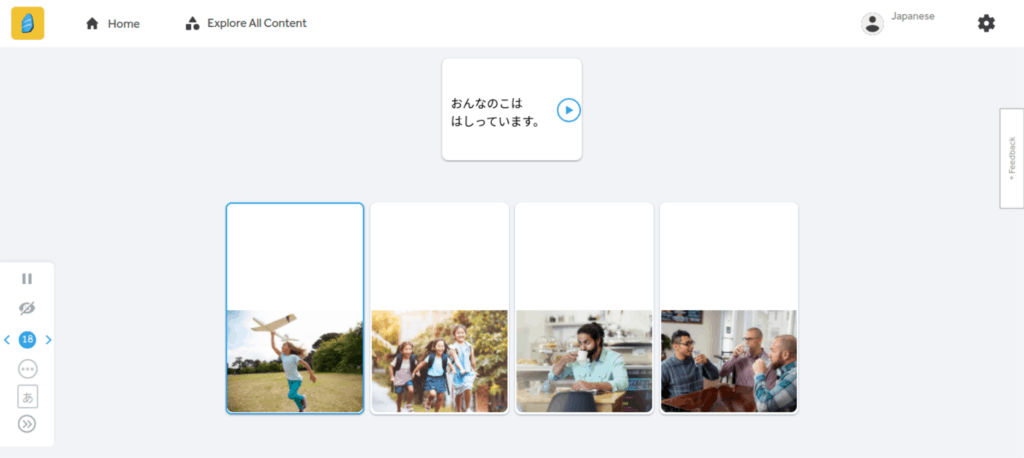 Overall, the general concept is very good, it's just executed poorly with not enough immersion in real-use language with proper context. Other language programs do a much better job at a fraction of the price.
You could learn exponentially faster by learning from a set of materials that you actually enjoy. In this day and age, you no need to learn through brute force, there's loads of great authentic materials and modern courses to teach you Japanese, such as manga & anime, videos, music etc. for you to keep yourself interested and engaged on a daily basis. Self-study requires a knowledge of effective learning methods but allows you to tailor a much more effective program, plus you have the option to use a structured language course in tandem.
An effective Japanese program should provide ample context, examples, and explanation. which is why we believe JapanesePod101 is the best choice for learning Japanese. It has thousands of hours of video and audio content, and is as close as one can get to learning Japanese from a real teacher without the high price tag of taking classes.
JapanesePod101 has options for different budgets, and there really is no substitute that we've found that compares. With all of these options considered, we highly recommend JapanesePod101 for all of your language learning endeavors.
You can read our full review of JapanesePod101 by clicking the image below, or use our special discount link to get 65% off.
Our Editorial Team is a group of language learning enthusiasts who are passionate about testing new apps and finding the best ways to learn a language.