Editor's Note: The following is our honest KoreanClass101 Review. Please note that there are affiliate links in this post, but we only recommend products that we've have tested and actually use! The information in this review was last updated Feb 12th, 2023.
Korean is now the 14th most widely spoken language, with about 80 million speakers worldwide. It's a fascinating language with a unique alphabet, and is generally considered a language isolate, meaning that it has no direct links to any existing languages on Earth.
But actually choosing which Korean course to go for can feel a little overwhelming. A quick internet search yields hundreds of results. Which program is worth your time and money, and will actually teach you Korean in the most efficient way? That's why we've brought you this in-depth review of one of the most popular language courses out there – KoreanClass101.
We've spent hours testing out the program, and rigorously putting it through it's paces. Read on to discover what we liked and disliked, the features we found most useful, and most importantly whether we think it's worth your time and money.
Already made up your mind and looking for our promo code?
Operating System:

Web Browser and Mobile App for Android and iOS



Application Category: Language Learning Software
Description:
A fully immersive Korean language program that combines audio, video & textual analysis to provide a dynamic language learning environment.
Like the other Innovative Language programs, KoreanClass101 is a language immersion program that features thousands of audio and video lessons, accompanied by detailed written explanations. The program is divided into 5 skill levels and a bonus level that goes even deeper into Korean language. For the most part, the content is fun, interesting, and effective.
The program offers a vast encyclopedia of Korean language lessons that can be custom tailored for any pace and skill level. If used daily, we think KoreanClass101 can make you an adept Korean speaker in 6 months, and we encourage you to check out the rest of our KoreanClass101 review below!
KoreanClass101 Review Summary
Quality of Materials:
Quantity of Lessons:
Effective and Efficient:
Teaches Useful Korean:
Price:
*Note: The latest update to the course now includes a dedicated pathway for learning the Hangul Alphabet
So why learn Korean? Aside from the obvious reasons it is beneficial to learn another language, learning Korean has many benefits: it is the language of the worlds 13th largest economy, and it is the language of one of the most vibrant, diverse and beautiful peninsulas on the planet. Also, knowing Korean will help you to fully enjoy K-pop, Korean Dramas, and some of the best food in the world.
Pro Tip: As a written language, Korean uses a combination of its own alphabet and Chinese characters (known as Hanja) in its writing system and is similar in both intonation and grammar to Japanese.
What we liked about KoreanClass101
More than 3200 audio and video lessons are neatly organized into a dashboard showing your progress. Each lesson teaches useful, conversational language and the difficulty increases gradually.
Pro #1: Thousands of Learning Hours
KoreanClass101 provides one of the most complete curriculums for learning Korean that we've found. As of Feb 15, 2022, there are over 3240 lessons included in the program, which translates to thousands of hours of content.
The breakdown of the lessons is as follows:
Absolute Beginner:

1390 video & audio lessons spread over 36 modules

Beginner:

740 video & audio lessons spread over 23 modules

Intermediate:

375 video & audio lessons spread over 13 modules

Advanced:

155 video & audio lessons spread over 5 modules

Bonus:

585 video & audio lessons spread over 6 modules
Compared with other language programs by Innovative Language, KoreanClass101 has an enormous amount of content – some of the other programs we reviewed by Innovative Language were a bit sparse so we are really happy to see such a wealth of content. 
Pro #2: Build A Solid Foundation In Korean
The Innovative Languages team does a great job of helping students really understand the basics of a language, and KoreanClass101 is no different. The course starts off with the basics: how to count, how to introduce yourself, and order at a restaurant. Once the fundamentals are covered, the material starts to build on that by expanding vocabulary and understanding Korean sentence structure.
Pro #3: The Most Complete Korean Language Learning Program We Know Of
With thousands of lesson plans, a user should have no problem finding new and exciting content to expand their understanding of the Korean language. The lessons also mimic real life scenarios such as ordering at a restaurant, or buying a train ticket in Seoul. You will not find any useless content in this program as everything has been tailored to address every aspect of social life on the Korean Peninsula.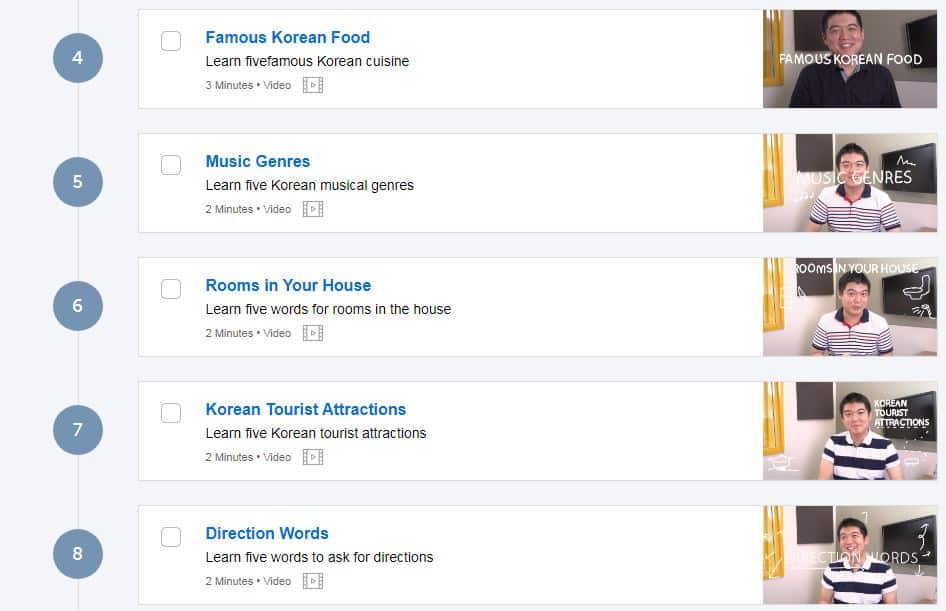 Pro #4: Deep Dive Into Korean Culture
We all know the best way to learn a new language is to actually surround yourself with native speakers and immerse yourself in the culture by living in the country itself. Unfortunately, this is not a practical reality for most language learners, and we have to make do with online courses such as KoreanClass101. For this reason, an integrated cultural focus is something we really take seriously when reviewing language programs, to not only help you understand the background of the language but to make the process much more memorable and enjoyable.
We're pleased to say that KoreanClass101 gets a huge thumbs up in this category. You have the ability to filter all the lessons by 'culture', to focus specifically on a cultural topic. Furthermore, almost every single lesson has a dedicated section in the notes that explains all the cultural inside tips and how they relate to the language. 
The tutors are all native speakers and their passion for Korean culture really shines through during the lessons. Unlike many other language programs, they take every opportunity to share their traditions and societal norms. You'll dive right into Korea's energetic k-pop culture, virtually sample the best of Korea's mouth-watering foods, get cultured as you explore prominent korean writers/artists, and feel like a local as you listen to popular radio channels and mainstream YouTubers. It's about as immersive as you can get for an online learning program!
What we didn't like about KoreanClass101
Con #1: Not Enough Resources For Writing
This program is incredible, but we can't advocate it 100% as a one-stop solution, for the same reason that we can't fully recommend the Chinese and Japanese versions of the program; the explanation and instruction of the Korean writing system is seriously lacking.
The Korean alphabet — known as Hangul — signifies a pivotal deviation of Korean away from the Traditional Chinese characters that inspired the language initially. For this reason, the alphabet is very intuitive and easy to learn compared to it's more complicated neighboring languages. That said, learning to read and write Korean may still be difficult for learners coming from a roman language, and we'd like to see a much more detailed breakdown of how to write Hangul.
Important Update: It seems Innovative Language has taken our feedback on board and now offers an entirely new lesson pathway that goes through every letter of the Hangul alphabet, it's pronunciation and how to write each letter. A much needed update to the program!
Pro Tip: The implementation of Hangul in the late 1400s reduced the number of characters from thousands to less than 30. In modern day Korean, there are 24 letters in the alphabet with 14 consonants and 10 vowel letters. The letters are organized into blocks which represent syllables. The blocks are organized in different ways depending on how many letters, vowels and consonants there are.
What are the lessons like?
Although it might not feel like it, throughout the 5 skill levels and the thousands of audio and video tutorials there's a definite structure to the program. Each pathway follows a different overall theme, with each lesson covering a specific set of phrases, vocabulary or grammar points. Every lesson has an accompanying transcript, learning checklist and lesson notes (all fully downloadable).
When you first create your account, you'll be prompted to take a diagnostic test to determine your level (don't expect to get many of the answers right if you are a complete beginner). Unfortunately, you do have to go through all 32 questions before you can unlock the level 1 course. However, it's worth mentioning that you actually have complete free reign over which pathway you wish to start from first. You can very easily just go straight to the lesson library and select any lesson pathway that piques your interest. Besides, the official curated pathways are not always the best in our opinion anyway – we recommend first browsing around since the quality and teaching style does vary quite a bit among all the possible lesson pathways.
A typical lesson will follow this structure: First you'll listen to the podcast or watch the video. This is the fun part – the tutors are really quite energetic and entertaining to listen to. They'll introduce you to the new language, give you some background about the culture and it's meaning, and finally expose you to the language in context (usually through an authentic dialogue).
To really drill your pronunciation and reinforce what you've learnt, it's then recommended to go through the line-by-line transcript for the dialogue. You can listen to each line in isolation at either full or half speed, record your own voice, and compare your pronunciation alongside a native speaker. If any of the grammar or vocabulary is unclear, you can take a look at the lesson notes and the vocabulary section, which likewise gives you an audio clip and record-yourself feature. Once you've completed the lesson you can mark it as complete, take the quiz and your progress will be updated on your main dashboard.
Extra Features & Vocab Learning Tools
With over 15 years of experience creating language programs just like KoreanClass101, it's fair to say that Innovative Language has got their learning platform down to a tee. With a whole suite of extra vocab tools available, you'll be satisfied to know that there's many different ways of learning on offer, and the opportunity to add variety to your studies. KoreanClass101 membership comes with full access to:
KoreanClass101 Alternatives
The Korean language is worlds away from English, which makes it a language to be respected by new students. We believe any effective language learning program needs to address 3 critical areas to be successful:
Korean grammar principles that are taught clearly and succinctly.

 Korean has a complex system of verbs, politeness levels, and unique grammar.

It doesn't ignore Korean's level of politeness in verb tense.

 If a course only teaches you formal Korean, you likely won't be able to understand 90% of what's being said in conversation. Unless you only speak Korean at fancy Gala's that is. Effective Korean language software should address the different levels of honorifics.

It teaches the Korean writing system

. While the Korean writing system isn't nearly as complicated as Japanese or Chinese, it is still fairly difficult. A good Korean course should effectively teach how to read — in addition to speaking and understanding.
Recommended KoreanClass101 Alternatives
With these recommendations in mind, we can also confidently recommend Rocket Korean, FluentU and Talk To Me In Korean (TTMIK) as effective paid alternatives to KoreanClass101's programs.
We also suggest Duolingo Korean as a great option to learn the basics. Since it's free, it is a great no-risk place to start learning the language.
How much does KoreanClass101 cost?
KoreanClass101 has three tiers of membership; Basic, Premium & Premium Plus. Anyone considering paying for one of the paid tiers should consider their level of commitment to learning Korean before signing up.
The Pricing for the different levels (as of Feb 2022) are as follows:
Basic Membership:  $4 per month
Premium Membership:  $10 per month
Premium Plus Membership:  $23 per month
Casual learners may consider the Basic plan while those who want to learn Korean quickly, and are able to make a serious time commitment in order to take advantage of the 1 on 1 instruction will want to purchase the Premium Plus option, as the included 1 on 1 instruction offers great value.
Each Level of membership unlocks a greater amount of features and available lessons:
Use Our Discount Code for 30% Off
After trying KoreanClass101 and realizing we really liked it, we asked the company if we could get a discount code for our readers, and they generously gave us a coupon code for the maximum 30% off.
If you click this link, the 30% off will be automatically added to your order:
Upon signing up, you'll be offered a full month of premium membership for only $1! 
This is a no-brainer for those who are still on the fence and want to try the program out for a longer period of time.
The Secret Lifetime Promotional Offer
While it's not advertised on their site really, they offer a special one-time payment option for Premium only. At $599 it's expensive, but if you're someone who hates monthly payments and knows they want to use it for a long time, it might be a good deal.

You can find all the details here:
 Depending on how many languages you buy, the price per language can be as low as $44 per language, and you have it forever. 
KoreanClass101 Review Conclusion: Worth It?
After trying out many different Korean courses, I would definitely recommend KoreanClass101, but with a caveat: you should still buy a textbook to learn Hangul.
While Korean is an easier language to learn then Chinese & Japanese, it still requires a significant time investment to become fluent. The creators of KoreanClass101 have spent years structuring their program in the most efficient way possible and the work shows. They are constantly dropping new lessons, so you'll never run out of content, and for the most part the teachers are good at keeping you engaged.

We found KoreanClass101 to be a great product — one we very much enjoyed reviewing. And despite it's small flaws, we are confident in saying it's one of the best ways to learn Korean out there. We would also recommend supplementing the program with a book that will teach you Hangul, so check out our guide to the best Korean textbooks.
Michael has lived in Japan on and off for almost 10 years. He loves studying Japanese, and is currently working on going from N2 to N1 on the JLPT.