Note: The Rocket Chinese program received some major updates in the fall of 2020 for the 2021 Version. We've updated our Rocket Chinese review below to reflect the changes.
With more people speaking Chinese more than any other language, brushing up on your Chinese language skills is a great way to get ahead in a fast-paced globalized world. Among the different Chinese varieties, which are mutually unintelligible to each variety's speaker, are Mandarin, Wu, Min, Gan, Hakka, Xiang and Cantonese.
However, learning to speak Chinese can be a challenging undertaking for anyone to pursue. If you are considering trying to learn this language, you may be wondering what's the best way to do so. Rocket Chinese is a great option to consider for your language studies – a comprehensive course with over 366 hours of structured lessons, teaching you everything from grammar to Hanzi, the Chinese writing system.
But is Rocket Chinese really worth your time and money? How does it compare to other Chinese language programs? Read on to find out in our honest Rocket Chinese Review.
Already made up your mind and looking to start your free trial account?
Rocket Chinese Review: Summary
Price: One-time payment of $149.95 for Level 1 — Beginner to Intermediate; $299.90 for Levels 1 & 2 — Beginner to Advanced; $449.85 for Levels 1, 2 & 3 — Beginner to Advanced. However, you can get from $50 to $190 off these prices with special coupon codes. A payment plan is now available for the entire lesson series — Beginner to Advanced — for just $47 a month for six months.
Description
: Rocket Chinese offers a comprehensive course to help you reach your language-learning goals,
promising to cut your learning time in half by using their dedicated learning platform
. It offers a well-balanced learning system which covers a variety of individual learning styles.
In a Nutshell: With lots of cool features like their game-like leaderboard system, points and study streak, it's easy to stay motivated with Rocket Chinese. The updated version for 2021 takes into account customer feedback, and now includes lots of bonus features and new content that is both modern and relevant to daily life in China. Though costly, it's now one of the better Chinese language programs on the market.
Quality:
Quantity:
Effectiveness:
Practicality:
Price:
Rocket Chinese Review: Overview
If you've never heard of Rocket Languages, it's an online-based language learning program that offers a true on-the-go learning experience for complete beginners.
The course is broken down into 3 main levels which can be bought individually, each one increasing in difficulty. Overall, there's 23 modules (spread evenly amongst the levels) and a 'survival kit', containing many extra vocab lessons on useful topics ranging from catching a cab to socialising in China.
Unlike other programs, they don't just focus on the pinyin (the romanization), but they actually introduce you to the Chinese characters from the very beginning. Rocket Chinese offers a number of ways to learn along with several learning tools and useful tips. 
If you need a quick lesson for travel purposes, the syllabus is easy to navigate to find exactly what you're looking for. Generally though, it's recommended to go through the lessons in order since they build upon one another in a logical way.
A membership to Rocket Chinese comes with full access to:
The Pros: What We Like About Rocket Chinese
Pro #1: No Subscription - Flexible Payment Options
Unlike most language-learning programs, Rocket Chinese does not charge a monthly subscription fee. Instead, you pay a one-time fee for a lifetime account. This may sound quite committing, but it's useful to know that they offer a very generous 60-day refund policy if you are not satisfied with the course.
Additionally, if you purchase all three levels, you can set up a monthly payment plan, so you don't have to fork out the money all at once.
Pro #2: Comprehensive Lessons with Transcripts
Each audio lesson is taught by two instructors, and at least one is a native speaker. The dialogue is very engaging and useful to daily life, and is broken down line-by-line for you to practice. They encourage you to repeat what you hear and they even leave gaps in the audio for you to work on your pronunciation. Listening to the audio whilst reading along to the transcript is a brilliant way to improve your listening skills.
Pro #3: Simple and Easy-To-Use Dashboard
The newly-revamped dashboard makes the program super-easy to use. Rocket Languages listened to customer complaints about being confused with the old dashboard and took it to heart. You now have a clean, updated dashboard to check your progress on the leaderboard, personal progress, change lessons, and access all learning tools.
Pro #4: Variety of Lesson Types
We like how they keep you engaged and interested by mixing up the lessons throughout the course. First, there's the audio lessons, which get speaking straight away and up to speed on simple conversations. Next, the grammar is explained in depth in the language and culture lessons (as well as lots of fascinating cultural insights). 
Finally, you have the writing lessons which teach you the chinese characters through short videos and explanations. It seems that whenever you start to get bored in a lesson the next one focuses on a different skill or aspect of the language, keeping it all very fresh and engaging. You can also dip into the survival kit at any time to boost your Chinese vocabulary.
The course immerses you in the language from the get-go, and by level 3 almost everything is in Chinese, giving you constant practice and exposure to new material. The lessons often contain many bonus vocab lists and exercises which go beyond the scope of the lesson, allowing you to further expand your knowledge if you wish to do so.
The Cons: What We Don't Like About Rocket Chinese
Con #1: The Lessons Skip Around
By this, we mean that lessons do not always feel very linear and can jump from subject to subject. Instructors sometimes input their own jokes or take on the lesson that aren't necessarily relevant at that particular time, and it can take away from the instruction and overall flow of the lesson. We'd like to see some more common themes or topics that tie everything together, rather than disjointed topics that are seemingly random.
Con #2: Exercises can be Repetitive
We get it, repetition is a big part of learning another language, but many of these exercises are exactly the same as others with just a few words changed up. This kind of repetition can get boring really quickly and make you less interested in pursuing your course.
Con #3: Heavily Based on Memorisation
The exercises place a huge emphasis on memorisation, through the use of flashcards, testing games, quizzes etc. Whilst I agree that this can be useful in learning vocab, it's certainly not the only way to learn and it doesn't suit everybody. We'd like to see more variety in the exercises that focus more on real world applications and creative methods for testing what you've learnt.
Con #4: No Focus on Chinese Reading
It seems that Rocket Japanese has all bases covered however when it comes to reading the program is seriously lacking. Reading is an essential component to learning Chinese and unfortunately you'll have to find your own resources outside of the course.
Con #5: Not the Best for Advanced Speakers
If you already have a good base in Chinese, you will probably need to look elsewhere for more in-depth and advanced teaching. We think Rocket Chinese can be valuable mostly for beginning to low-intermediate learners, but there is simply less content for advanced speakers.
What are the Lessons Like?
The program mainly centres around audio lessons with accompanying transcripts. The transcripts allow you to follow along with what you hear. Written lessons give quite a bit of detail about certain aspects of Chinese such as when and how to use certain words, and some useful mnemonic and memory tricks to help you remember what you've learnt.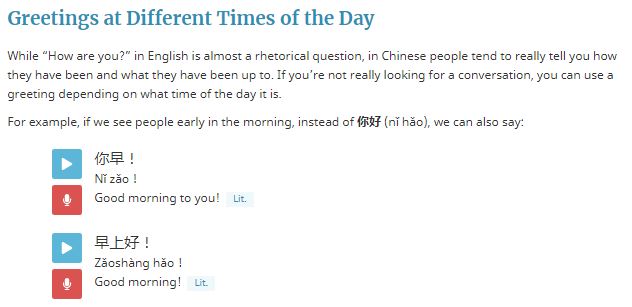 As we've briefly mentioned already, there's also a variety of activities that accompany the lessons including Sort It!, Write It!, Hear It!/Say It!, flashcards and quizzes. These can help to practice what you've learned and give you some experience writing, listening and speaking. You can also keep up with your progress with regular quizzes.
Additionally, most lessons include a brief culture lesson to give you more insight into Chinese.
Who Is Rocket Chinese For?
We feel that Rocket Chinese would be a best fit with those who:
Who Is Rocket Chinese NOT For?
However, the course is not for everyone. Those who might not benefit from the program are those who:
Rocket Chinese vs. Competition
Rocket Chinese vs. ChineseClass101
ChineseClass101 is a part of Innovative Language's Pod101 courses. Like Rocket Chinese, it provides an in-depth learning of the Chinese language including grammar essentials, cultural norms and Chinese characters. It also builds upon each level to increase your overall understanding with a guided, academic learning pathway. ChineseClass101 has three monthly subscription levels to choose from ranging in price from $8 to $47.
Rocket Chinese vs. Pimsleur Chinese
Pimsleur Chinese is a language-learning program based upon organic learning. It consists mostly of audio lessons, which can be a drawback for learning Chinese characters, writing and reading. However, Pimsleur's method is based on the idea that you learn another language the same way you learned your native language—by listening and repeating what you hear. There is a monthly subscription fee of $19.95 for premium service.
Rocket Chinese vs. Rosetta Stone
Rosetta Stone is one of the classics in language learning for good reason. You can either purchase a lifetime membership or pay a monthly subscription fee. Like Rocket Chinese, it offers a structured course to learn to speak the language. We found that most of the practice exercises are multiple choice, and this doesn't give students as much leeway to learn variations of the language.
Is Rocket Chinese a Good Investment?
In a word, yes. With the latest updates for 2021, we have to say that Rocket Chinese is right up there with some of the most comprehensive language-learning programs. The price point is on par with other programs, and it is much cheaper than taking a college course in Chinese.
There are several different options when it comes to pricing. You can buy each level individually or go for all 3 levels at once (the best value option).
Hint: Use the discount code 'EARLYBIRD' to get a hefty discount on your order:
Level 2 and level 3 are also available to purchase individually. The one time payment plan gives you lifetime access to all the tools, content and future updates.
Prefer to pay in installments? You can get all 3 levels on a subscription plan by paying $44 every month for 6 months. You can cancel at any time.
And finally, they offer a 60-day returns policy if you are not satisfied with the course.
Rocket Chinese Review: Conclusion
We really like that Rocket Chinese listened to customer feedback to improve their platform. With that being said, it still has it's issues and can feel old-fashioned in it's teaching methodology. However, without a doubt, it's still a very effective way to learn Chinese. The platform is easy-to-use and provides an in-depth way to learn to read, write and speak Mandarin Chinese. 
The serious student should have no problem achieving a decent level of fluency by completing all three levels. Since there is no recurring monthly fee, students can take their time to complete the course and study on a flexible schedule.
Our Editorial Team is a group of language learning enthusiasts who are passionate about testing new apps and finding the best ways to learn a language.