Editor's note: This Duolingo Chinese Review is up to date as of June 13th, 2021.
If you've ever started studying a second language before then you've probably already heard of Duolingo. It's currently one of the most popular language-learning apps on the market, offering dozens of different languages to learners all over the world. Therefore, it is of no surprise that they now offer the most widely-spoken language in the world – Chinese.
Chinese Speakers Worldwide (Approx.)
However, is Duolingo Chinese really the best way to learn Chinese? Check out our in-depth Duolingo Chinese Review to find out.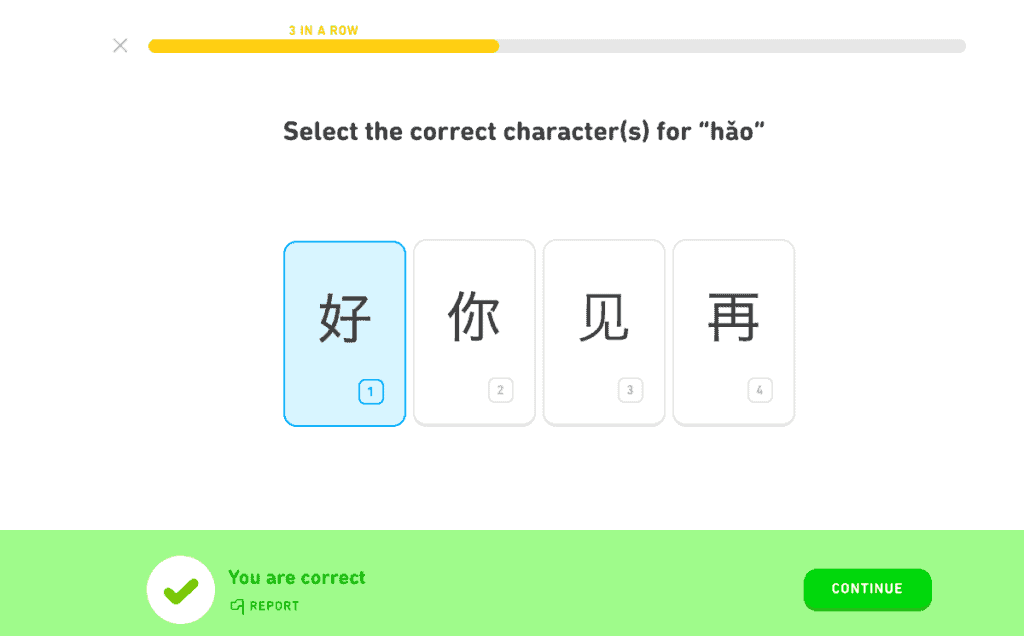 Duolingo Chinese Review: Summary
Price:

Basic version is free. Duolingo Plus has a 14 day free trial and costs $6.99/month thereafter.



Description:

Duolingo is a gamified language program featuring a slick and attractive user interface, with over 120 million users around the world. Alongside Mandarin Chinese, they also offer 19 other languages including German, French, Dutch and Japanese.
In a nutshell: You are guided along a linear syllabus that's broken down into units and subsequent chapters. Each chapter focuses on a different topic such as 'greetings' or 'family'. You complete each level by answering a series of quizzes, winning gems, unlocking new levels and by trying to avoid losing too many hearts.
Quality of Learning Materials:
Quantity of Lessons:
Effective and Efficient:
Teaches Useful Phrases:
Price:
Duolingo Chinese Review: Overview
Duolingo Chinese promises to get you speaking fluent Chinese — tones included — in no time at all. They proudly boast on their website that their learning methodology is the 'best way to learn a language'. Some might argue otherwise.
The program has a game-like set up which makes you want to keep learning Chinese to unlock more levels and gain achievements/badges. You collect blue gems by completing each level that you can then spend in the Duolingo store on items like outfits and extra lives for your game.
The chapters teach you to match the pinyin to the Chinese characters while introducing new vocabulary. Unless you already have some Chinese background, knowing what the Chinese characters actually mean is pretty much a guessing game.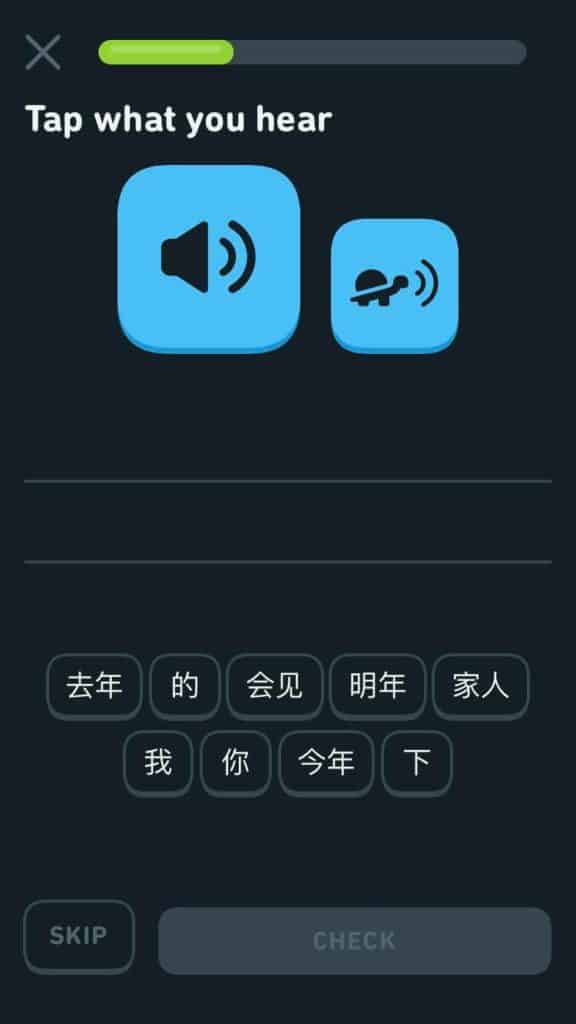 Each lesson has a combination of guessing the missing word, matching words and characters, or matching sounds and characters. Eventually, you will move on to building your own sentences by listening to the audio and selecting the correct words in order. A few other features you will find with Duolingo Chinese include:
Whilst there is a lot to improve, there are some things that Duolingo does very well. Let's dive into some of the things we really liked about the program.
Pro #1: Fun and Motivating
Duolingo Chinese really excels in terms of motivating learners to continue studying the language. As you complete each level you win gems that you can use in the store for extra lives, more points, and other game-related items. You are awarded for completed levels and for completing your daily set time limit. Overall, you feel lots of little motivated nudges, even the satisfying 'ding' of getting an answer correct is enough to get the dopamine flowing. 
One thing we liked is that they really push the learning 'streak' by sending you notifications, allowing you to make wagers for additional gems or even being included in exclusive groups once you've achieved a specific streak duration. This way you can really make learning a habit and progress through the levels quickly.
Pro #2: Chinese Characters are Introduced Early
You will find yourself learning the Chinese characters early on, which is different from programs that begin solely with pinyin. It is helpful to learn characters early, so you are prepared when they are used in more advanced levels.
Pro #3: Extensive Vocabulary
Duolingo Chinese has you learning vocabulary from the very beginning. At times, you will probably be guessing at what some of the words mean until you memorize them. However, we think that the sheer amount of vocabulary taught is definitely a pro.
Pro #4: Relevant & Interesting Topics
The content is modern and relevant to daily life in China, teaching you phrases that you are very likely to actually use if you move to China for travel or work. It starts off with very simple topics like basic greetings, numbers, foods etc. and gradually increases in difficulty until you are learning about sports, weather, feelings and festivals. Grammar is dropped in here and there with some topics dedicated to only the future tense, for example, and there are also some lessons that focus more on business Chinese or even Chinese slang which is nice to see. 
Pro #5: Focus On Weakest Words
The app tracks which questions you made mistakes and will then test you on those words/phrases again more frequently. A pretty smart feature – it allows you to practice those words you are weakest on and ensures you don't spend too much time on the stuff you know already. Note, the paid version gives you the bonus option to take a lesson that's personalised to your mistakes, so you can review all the times you got something wrong.
However, Duolingo Chinese is far from perfect. As much as we enjoyed playing with the app, we couldn't help notice some pretty big flaws that really pull it down from being the complete Chinese learning app that it's hyped up to be.
Con #1: Little-to-No Emphasis on Tone or Pronunciation
The two most important keys of learning to speak Chinese are the pronunciation and tones. Unfortunately, you will find little information on tones and even less on pronunciation, and the information on tones is foggy at best. Students may assume pinyin is pronounced the same as English, but this is not the case. 
However, there is no way to know this if you're brand new to Chinese. Dedicated lessons on Chinese tones is really a must for most learners who are starting out, especially for those with English as their first language. Otherwise you can expect to get very confused and struggle to distinguish between the different vocabulary.
Con #2: Lack of Flexibility in Giving Answers
When constructing your own sentences, Duolingo only offers one correct response. For example, you may translate a sentence to say 'Please, speak slower' and the correct answer for Duolingo is 'Please, speak more slowly'. Though both are correct, your answer is still considered wrong and can prohibit your advancement.
Con #3: No Grammar Lessons
There is very little in the way of grammar. For the most part, you are filling in blanks, matching words to characters, and translating what you hear to English. Though this can provide you with some useful phrases, it will not help you to become fluent. To learn Chinese, you really need to get a good grasp of the grammar principles, so for this reason Duolingo alone will not help you (especially at the higher levels).
Though the desktop version does have some background information on grammar we still found it to be quite basic without any in-depth explanations. You are normally only provided with an example or two and expected to figure out the rules yourself. This can be very slow and frustrating when trying to learn a new language.
Con #4: Unhealthy Pressure NOT To Make A Mistake
Whilst I agree that the gamification of the app is a great benefit, helping you to stay engaged and motivated, we really didn't like the way the hearts effectively discourage you from making a mistake. When learning a new language it is essential that you get comfortable with trying out new words and sentence structures, and making many mistakes – this is how you learn. However, during the Duolingo lessons you have only as many hearts to make mistakes. Once you're out of hearts you have to wait a few hours to continue – a pointless and even harmful exercise in our opinion.
Con #5: Choppy Audio, Poor Translations
The app is clearly created for a mass audience and thus the questions are automatically generated with automatic translations. For this reason the audio is very choppy and inauthentic when listening to full phrases, and some of the translations are even just incorrect. It seems they haven't been checked by native speakers and all sorts of inaccuracies have been allowed to creep in as a result of the way the app has been programmed.
Duolingo Chinese Features
The Duolingo Chinese interface is simple and easy to use. You can easily find your way around Duolingo and back to your lessons. We like that it has a colorful and fun background with the owl character, too. It is a far cry from other, drier language-learning platforms.
Under the More tab you will find a variety of extra learning tools. We particularly like the section on Chinese events. This will give you a calendar of upcoming or recurring events where Chinese is spoken like with a news program. This offers additional ways to hear and practice speaking Chinese outside of Duolingo's game.
The discussion board on the desktop version is an excellent resource to connect with others learning to speak Chinese like you. Advanced learners can share information with those just starting out, or students can share information on upcoming events that would benefit learning Chinese.
As mentioned, Duolingo's rewards are available once you've completed lessons, logged on for multiple days in a row or leveled up. Though these rewards can enhance the fun of learning to speak Chinese and encourage you to use the app more, we don't find them to be an exceptional way to improve your language skills.
Who Would Benefit from Using Duolingo Chinese?
We feel that most people would enjoy using Duolingo Chinese as a game, but those who would most benefit from it include those who:
Who Would NOT Benefit from Using Duolingo Chinese?
Language-learning programs are definitely not one-size-fits-all, so those who may not benefit from Duolingo Chinese include those who:
Duolingo Chinese vs Competition
Duolingo Chinese vs. ChineseClass101
ChineseClass101 by Innovative Languages has a free lifetime subscription option that gives you the first three video or podcast lessons in each learning pathway. This equals well over 50 Chinese lessons. It offers four expertise levels from absolute beginner to advanced speaker.
You can upgrade to a monthly subscription plan from $4 to $43 a month. These plans offer additional features like access to the entire lesson library, one-on-one instruction, and personalized learning plans. You will find both grammatical and cultural lessons included with speaking and pronunciation.
Duolingo Chinese vs. italki
italki is a platform where you can choose who teaches you to speak Chinese. You simply look through teachers and their reviews and schedule an appointment for your video chat. You only pay for the lessons you take and you can schedule the lessons for a time that suits you.
This offers a unique way to have one-on-one instruction in Chinese. Your teacher can give you assignments like reading or translation practice and you get real-time corrections. You can also make connections in chat groups for further practice.
Duolingo Chinese vs Rocket Chinese
Rocket Chinese claims to offer the most extensive Chinese-learning program. You can try it out with some free lessons which will cover simple travel information, describing your clothes, and counting to 100. If you choose to stick with Rocket Chinese, you pay a one-time fee for one, two or all three lessons.
The first and second lessons are designed to take you from beginner to intermediate speaker, and the third lesson will take you all the way to advanced speaker. We like that this course offers a one-time fee and no monthly subscription prices to worry about.
The best part about Duolingo Chinese is that it is free to use all of its features. Additionally, you can sign up for Duolingo Plus for $6.99 per month to eliminate advertisements, have a free "streak repair" each month, and to help support Duolingo's mission of free education. They claim that users of Duolingo Plus are also four times more likely to complete the entire course.
Duolingo Chinese Review: Summary
Duolingo Chinese definitely has other language-learning programs cornered when it comes to the motivation factor. It offers a fun and simple way to get your learning in each and every day. Having said that, we do not feel like Duolingo Chinese is the best resource for those who are aiming to speak fluently. It is best used as an introductory resource at best, or as a supplemental resource paired with a more in-depth program covering Chinese grammar, culture and tones.
Overall, while it doesn't do any harm to have a play around with Duolingo's Chinese course, we'd recommend avoiding it to be completely honest. Yes it's free, but you're likely to leave more confused than when you first started with it's unnatural voices and lack of logical explanations. 
And since the layout of every lesson doesn't change, we found ourselves getting very used to how to answer each question and get around it's marking criteria, thus fulfilling the requirements for lengthening that learning streak, but leaving the lessons without actually remembering what we just learnt.
Whilst the paid version does alleviate some of it's problems (like unlimited mistakes) we recommend investing your money into a much more comprehensive dedicated Chinese language program such as ChineseClass101.
Our Editorial Team is a group of language learning enthusiasts who are passionate about testing new apps and finding the best ways to learn a language.