Podcasts can be a fantastic way of rapidly expanding your familiarity with a language. For Japanese, there is a multitude of resources available. In this post, I am going to list up the best Japanese podcasts that I have come across.
Podcasts Aimed at Native Japanese Speakers
Once you are ready to make the jump, you can challenge yourself by listening to podcasts originally intended for Japanese people. The great thing about using podcasts for native speakers is that there is no dumbing down. You get exposure to how the language is really spoken. Yes, it will be tough to start with, but it doesn't get any harder than this. With consistent exposure and a dictionary on hand, you will make great progress with your Japanese studies. I daresay you will also learn a lot about Japan and how Japanese people think.
1. Sekai Chokusou Interview
Years ago, when I found myself plateauing at intermediate Japanese, I knew where I was struggling:  I needed to listen and shadow material that I was genuinely interested in.
After a ton of searching and trying new podcasts, this is the one that stuck.  I listened every single episode (there are 74) at least once while commuting, over the course of a few months, and my Japanese listening and speaking improved dramatically.  So much that my Japanese friends were shocked.
Basically, each episode series (usually 2-3 episodes) is an interview with a Japanese national who's living in a different country overseas.  My favorite interviews are usually the ones in Southeast Asia, since they tend to be the most interesting characters.
The main host's voice can be a little bit grating, but the interviews are super entertaining, and for the most part the hosts speak slowly and naturally (if a bit formal) Japanese with the guests. 100% recommended for intermediate Japanese learners who like to travel.
They also have a bunch of other travel related podcasts here.  
2. NHK Daily News Podcast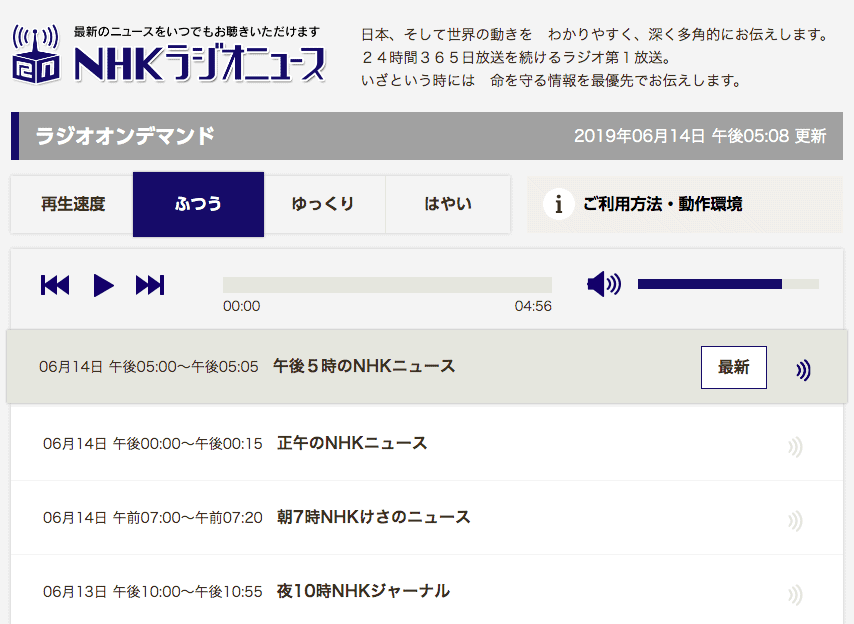 The daily news podcast by NHK is a fantastic resource for the serious Japanese learner. This free podcast is popular with Japanese expats abroad who want to keep up with the latest news. NHK is the national broadcaster of Japan, similar to the BBC in the UK. You can therefore rest assured that the Japanese language used in this podcast is exemplary, which could be ideal for those taking the Japanese-Language Proficiency Test.
The length of the podcast is usually around 15-20 minutes. It's a great way to refresh and expand your Japanese knowledge. The perspective is international news (as opposed to Japan domestic), so you could even replace your normal news consumption in English with this one.
3. Chiki Ogiue Session 22 Podcast
This is a current affairs and general interest talkshow that does a great job of touching upon issues from around the world. They invite expert guests to talk about a particular topic, usually in interview style. I really enjoy the free-flowing style – it's natural and informative without ever getting too formal or stilted (as opposed to what you might see on a current affairs show on Japanese TV). Highly recommended listening!
4. Junk Podcast
This talkshow has been around for years now and is probably the most popular podcast in Japan. I still remember the first time when I hit the play button and said to myself "Damn, I don't understand anything! Is this even Japanese?!" As you might expect from talk radio, the speech is rapid and colloquial. The hosts constantly jump around topics (often from previous shows) and use a lot of irony.
I'd say that this is a particularly challenging podcast , but with some repetition and familiarity with the format you will get used to it. In any case, regular exposure to this kind of content will greatly boost your casual Japanese, as the chat style is close to how Japanese guys actually talk to each other in real life.
5. The Takeda Kunihito Podcast
Takeda Kunihito is a prominent Japanese academic who has courted controversy in Japan due to his views on global warming and other scientific issues. In this podcast, he talks about not only scientific issues, but politics, economics, international relations, philosophy and history among others. Kunihito San is a very eloquent speaker of Japanese. His style is clear and precise. The show tackles a wide range of subjects in monologue style, making this among the more enjoyable Japanese podcasts to listen to.
So there you have it. That was my summary of the best Japanese podcasts that I have found so far. I'm sure there are many other good ones out there. Do you know of any? Let us know in the comments!
JapanesePod101: A great podcast for Japanese learners
If you are at beginner or intermediate level in Japanese, then I recommend checking out JapanesePod101.
This website offers a vast array of podcasts and resources for learning Japanese. Definitely one of the best options out there for those of you looking to master conversational Japanese.
You can create a free account to get daily lessons. Feeling lazy today, but I intend to write a full review in the near future! (EDIT: Read our review of JapanesePod101.)