What are the best manga of all time?  Well, hopefully without causing too much controversy, we'd like to present our list of the top 50 manga of all time!
While many people think of manga as the comic book art form that gained prominence in the 20th century, it actually dates back to the 19th century in Japan and its development is tied to Japanese drawings that appeared as early as the 12th and 13th centuries. The wildly popular manga comics have now become a billion-dollar industry and include every genre imaginable, from comedy to science fiction to romance. Often confused with anime, manga refers to comics only, whereas anime typically means the animated version of those comics.
Manga is not just for kids, either: people of all ages and all walks of life read these comics, both in Japan and throughout the world. If you're new to manga and wondering where to start (other than preparing yourself to get used to reading from right to left!), then we have some useful lists to get you started.
If you're learning Japanese, manga offers you a wealth of story choices at different levels, from beginner to advanced. Even one of our favorite language learning hacker Tim Ferris admitted to using Manga to learn Japanese and other languages.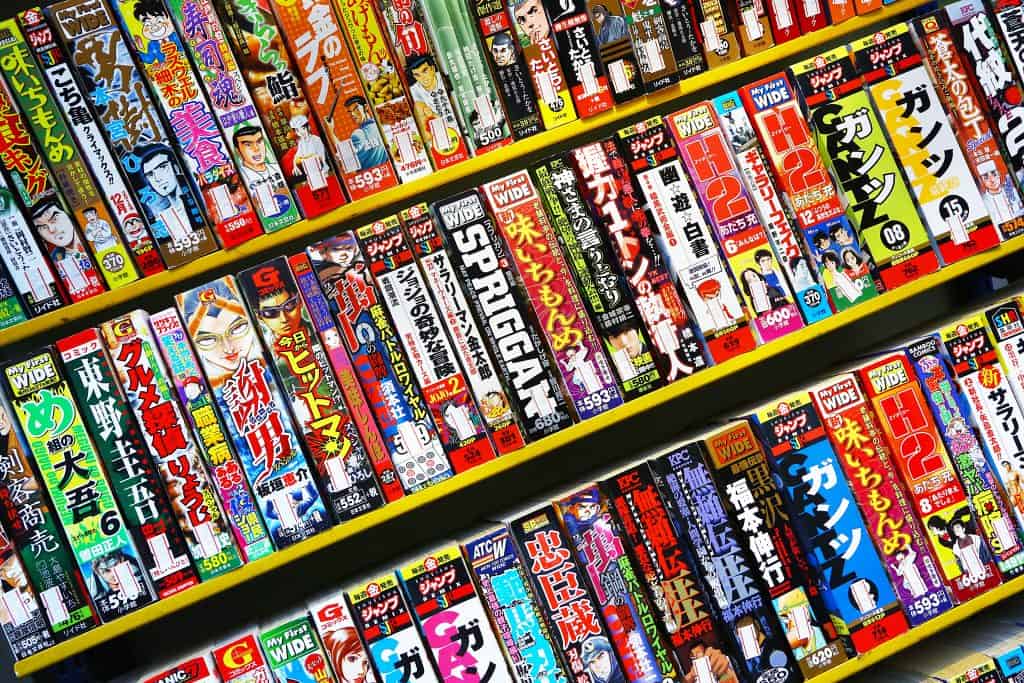 The Best Manga of All Time According to Reddit
Reddit is a popular resource for all things Manga, with users sharing new favorite stories they have discovered as well as commenting on some of the all-time classics. With more than one million members, reddit's manga community will keep you in the know on the manga you should be reading. Lists such as "The Official Top 100 Manga of all Time"are enough to keep anyone busy for a while!
And if you're still skeptical that manga will pique your interest or entertain and inform you, consider the breadth of genres covered. Manga includes every storyline imaginable, from those that touch on important historical elements of Japanese culture to those that hit on relevant issues of the times, such as the bullying epidemic, LGBTQ issues, or even devastating natural disasters such as earthquakes and tsunamis.
The Many Different Genres of Manga
As one recent article pointed out, manga is aging with its population: new stories aimed at older readers account for the fact that these readers want to see themselves in stories, not just as characters on the periphery. Perhaps in time it will be named its own category, but for now the types of manga you should familiarize yourself with as you search its genres are
Shonen: manga targeted to an audience of "tween" boys
Shojo: manga targeted to an audience of "tween" girls
Seinen: manga intended for adult men
Josei: manga intended for adult women
Kodomomuke: manga for younger children
(source: https://www.nypl.org/blog/2018/12/27/beginners-guide-manga)
It should be noted that a serious threat has been posed to manga in recent years in the form of piracy. Unfortunately, the same web-based audience hungry for new manga has the option to effectively steal it. There is an entire industry based on scanning the pages of physical books and making them available, without authorization, online. This has had a serious impact on manga sales, and in turn the bottom line for the authors and publishers who create them. If you truly enjoy this important art form, be sure to purchase it from credible sources, so that the talented artists who create manga will not be forced to give up their craft!
8 Manga Classics
We'll start with 8 Manga classics that everyone should read, covering a wide range of themes and interests:
1. Naruto
, by Masashi Kishimoto
The message in Naruto is a familiar and also appealing one, as it illustrates the dreams of an orphan boy who aspires to be the best ninja. Just as we rooted for Annie to win the heart of Daddy Warbucks, we will cheer for Naruto in his quest!
2. Sailor Moon
, by Naoko Tekeuchi
Talk about girl power! Sailor Moon tells the story of Usagi Tsukino, a magical warrior who is charged with protecting the earth from evil powers.
3. Astro Boy
, by Osamu Tezuka
This one is a must-read for anyone new to manga: Astro Boy is one of the most popular manga of all time, telling the story of a scientist devastated by the loss of his son, so he replaces him with a robot.
4. Ace of the Diamond,
by Yuji Terajima
The American pastime is beloved in Japan, too, and we see this illustrated in a manga about baseball. The main character is Weijun Sawamura, and he is recruited by a high school with quite a baseball legacy. Any sports fans are sure to connect to Manga by starting with this beloved tale!
5. Akira
, by Katsuhiro Otomo
Akira is a wildly popular 1980s manga, focused on a biker gang in a post-apocalyptic Tokyo. The title character is shrouded in mystery and the sci-fi action has made this one a fan favorite for generations.
6. Inuyasha
, by Rumiko Takahashi
The present meets the past when high schooler Inuyasha falls down a well and time travels to ancient Japan. Fans of both fantasy and history have loved this wildly popular manga series that has generated several feature films.
7. Barefoot Gen
, by Keiji Nakazawa
For those with an interest in military history, Barefoot Gen is the perfect manga series. In it a six-year-old boy named Gen lives through the horror of Hiroshima, and its lessons are still as relevant today as they were for the WWII generation.
8. Battle Royale
, by Koushun Takami
Before the Hunger Games, there was Battle Royale: a manga thriller focused on a group of students who are forced to kill one another. This one is not for the faint of heart!
The Top Manga Of All Time (an Imperfect Reading List)
Attack on Titan by Hajime Isayama, Published by Kodansha


Bad Boys by Hiroshi Tanaka, Published by Shonen Gahosha  

Baki the Grappler by Keisuke Itagaki, Published by Akita Shoten  

Black Jack by Osamu Tezuka, Published by Akita Shoten  

Bleach by Tite Kubo, Published by Shueisha  

Boys Over Flowers by Yoko Kamio, Published by Shueisha  

Captain Tsubasa by Y?ichi Takahashi, Published by Shueisha  

Case Closed by Gosho Aoyama, Published by Shogakukan  

City Hunter by Tsukasa Hojo, Published by Shueisha  

Crows by Hiroshi Takahashi, Published by Akita Shoten  

Devilman by Go Nagai, Published by Kodansha  

Dokaben by Shinji Mizushima, Published by Akita Shoten  

Doraemon by Fujiko Fujio, Published by Shogakukan  

Dragon Ball by Akira Toriyama, Published by Shueisha  

Dragon Quest: Dai no Daib?ken by Riku Sanjo, Koji Inada, Published by Shueisha  

Fairy Tail by Hiro Mashima, Published by Kodansha  

Fist of the North Star by Buronson, Tetsuo Hara, Published by Shueisha  

Fullmetal Alchemist by Hiromu Arakawa, Published by Enix (2001–2003)  

Gin Tama by Hideaki Sorachi, Published by Shueisha  

Glass Mask by Suzue Miuchi, Published by Hakusensha  

Golgo 13 by Takao Saito, Published by Shogakukan  

Great Teacher Onizuka by Tooru Fujisawa, Published by Kodansha  

H2 by Mitsuru Adachi, Published by Shogakukan  

Hajime no Ippo by George Morikawa, Published by Kodansha  

Hunter × Hunter by Yoshihiro Togashi, Published by Shueisha  

Initial D by Shuichi Shigeno, Published by Kodansha  

JoJo's Bizarre Adventure by Hirohiko Araki, Published by Shueisha  

Kinnikuman by Yudetamago, Published by Shueisha  

KochiKame by Osamu Akimoto, Published by Shueisha  

Major by Takuya Mitsuda, Published by Shogakukan  

Minami no Teiou by Dai Tennoji, Rikiya Go, Published by Nihon Bungeisha   

Oishinbo by Tetsu Kariya, Akira Hanasaki, Published by Shogakukan  

One Piece by Eiichiro Oda, Published by Shueisha  

Ranma ½ by Rumiko Takahashi, Published by Shogakukan  

Rokudenashi Blues by Masanori Morita, Published by Shueisha  

Rurouni Kenshin by Nobuhiro Watsuki, Published by Shueisha  

Sangokushi by Mitsuteru Yokoyama, Published by Ushio Shuppansha  

Sazae-san by Machiko Hasegawa, Published by Kodansha  

Shizukanaru Don – Yakuza Side Story by Tatsuo Nitta, Published by Jitsugyo no Nihon Sha  

Shoot! by Tsukasa Ooshima, Published by Kodansha  

Slam Dunk by Takehiko Inoue, Published by Shueisha  

The Kindaichi Case Files by Yozaburo Kanari, Seimaru Amagi, Fumiya Sato, Published by Kodansha  
Barnes & Noble Recommendations
Once you make your way through this list, take a look at what our friends at Barnes & Noble are recommending in 2019:
January Manga picks from Barnes & Noble
February Manga picks from Barnes & Noble
March Manga picks from Barnes & Noble
April Manga picks from Barnes & Noble
May Manga picks from Barnes & Noble
Recommend reading
https://iexaminer.org/two-books-to-read-that-will-change-ones-perception-of-manga/
https://www.widewalls.ch/japanese-manga-comics-history/
McCarthy, Helen. A Brief History of Manga. Ilex Gift, 2014.
Our Editorial Team is a group of language learning enthusiasts who are passionate about testing new apps and finding the best ways to learn a language.